Grow with us at our office in Pune
Deliver digital experience solutions for the world's greatest brands
Life at Cognizant Netcentric is different
Life at Cognizant Netcentric is constantly moving.
We've worked hard to be industry leaders in adapting Adobe Experience Cloud technology to empower our clients and their businesses. Our commitment to breathing excellence is at the core of everything we do.
Our Cognizant Netcentric community is passionate about delivering solutions and results for our clients. Plus, our culture of Holacracy where every one of our employees has more autonomy and flexibility over their roles - gives us the space we need to create great things.
Why work at Cognizant Netcentric?
A career at Cognizant Netcentric goes beyond just a regular job. Our company was built on Holacracy, a flat hierarchy where everyone's input is welcomed equally. This organizational structure provides you with the opportunity for immeasurable growth.
We harness technologies that revolutionize our clients' digital visions. But, we also provide an environment for employees to live the life they want with an agile and flexible working culture, with core hours, remote working and investing in our employees' home offices.
Get inspired by our communities involvement
Differences are our biggest strength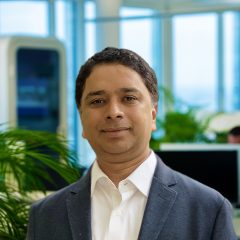 What drew me to Cognizant Netcentric is the deep expertise in the Adobe Experience Cloud, a leading digital experience platform.
Shailesh Gaikwad
Senior Director Digital Business
I joined Cognizant Netcentric because it is an Adobe Global Alliance Partner with an impressive list of clients and high customer satisfaction rates.
Radha Gangwar
Backend Software Engineer