Fostering Universal Love and Pride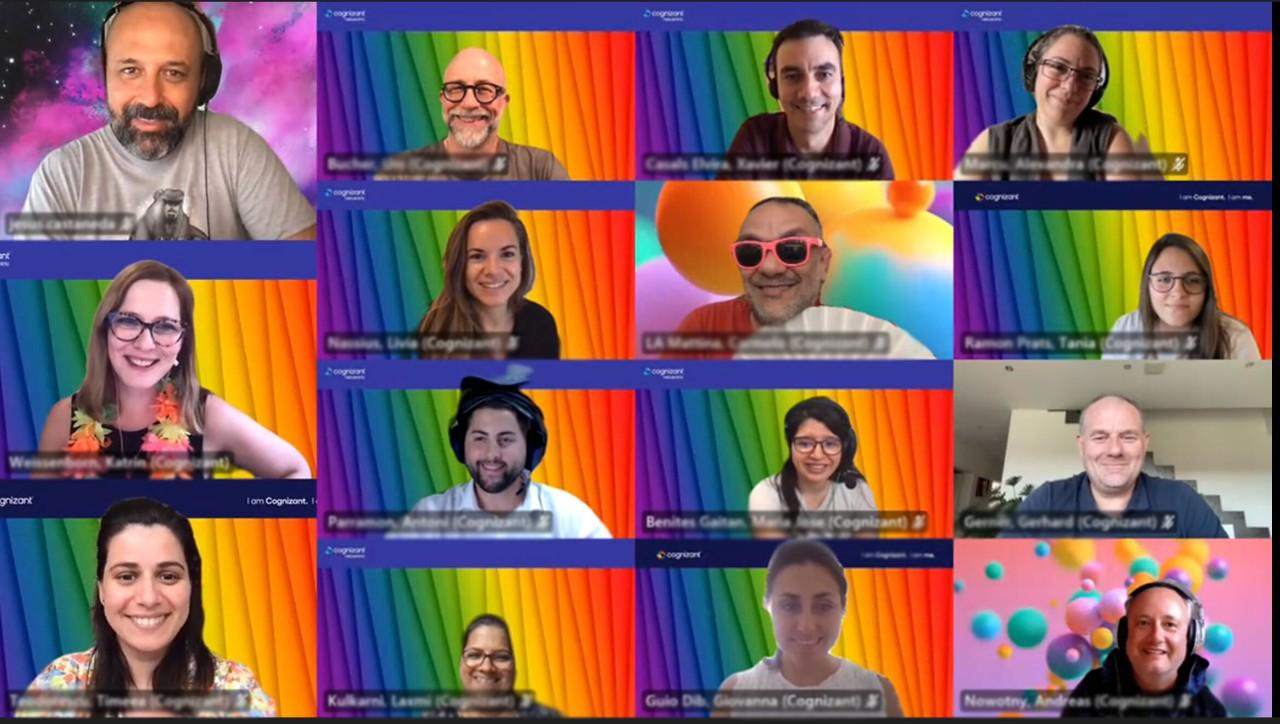 Even on a planet of 8 billion people, each one of us understands and experiences love differently. But the fact is, love itself does not recognize culture, race, gender, beliefs, or hierarchy – which brings us to a topic close to heart here at Cognizant Netcentric: Universal Love.
And while we make diversity and inclusion a year-round commitment, what better month than Pride to shine a light on this foundation of our core values?
In fact, we recognize Universal Love every single day. For us, honoring this is simple: we continuously strive to create an inclusive environment where our employees have the freedom to express their true selves without judgment.
The result? A workplace where everyone feels safe and supported while focusing on their strengths and expertise.
Carmelo LaMattina, our Senior Training and Development Manager, summarized this perfectly by referencing how the Cognizant Netcentric community is made extra special as a result of its diversity and uniqueness: "Cognizant Netcentric is made of people, and everything we do -- both internally and externally -- is for them. We are all different, unique, and incomparable, yet we all have the same right to respect, regardless of our culture, subculture, choices, gender fluidity, beliefs, or values.
Emotions come from people. And through their empathy, trust, and love, they nurture a sense of support, community, and collaboration. Cognizant Netcentric encompasses all of this, and I am very proud to be part of a company that understands and celebrates its most valuable assets: People."
As well as supporting and celebrating our community during Pride Month and every other day of the year, our dedication to Universal Love has another goal: to make everyone feel valued. We're a huge global community with multicultural teams in Europe, APAC, and North America – and every single one of us has a voice and is welcome to share our views.
How Cognizant Netcentric celebrates Universal Love and Pride all year round
In June, our Diversity and Inclusion circle launched many exciting external and internal initiatives, including a Pride and Universal Love event and an LGBTQ+ Love Trivia Game for all employees. As well as connecting our teams and having some fun, we shared testimonials on the importance of creating a work environment where support, community, and collaboration are encouraged.
Take these insights from Business Analyst and Web Accessibility Specialist Rafiyatou Bayor, who noted that our commitment to building a diverse workspace is instilled at Cognizant Netcentric right from the start: "I remember a video from our onboarding about discrimination and how Cognizant Netcentric fights it. In the video, I saw two kids from different backgrounds, and through those differences, a set of stereotypes were highlighted. It was at that point that I knew that this issue is taken seriously at Cognizant Netcentric and that such behavior in our community would not be tolerated.
At Cognizant Netcentric, I am free to be me. This is because it doesn't matter what color my skin is, what my gender is, or what my sexual orientation is. None of those things matter. At Cognizant Netcentric, it's all about creating a comfortable work environment where all employees enjoy coming to work and share the same goal: to meet our clients' and own needs".
Yes, it's our fundamental conviction that everyone should be treated equally and have the same opportunities to grow, speak up, and be themselves. But we also want to encourage everyone to perform at their best. That's why a cornerstone of our culture is creating an environment where we can all thrive and reach our full potential, as Marketing Technology Consultant Jonathan Brown testifies: "For me, it's about collaboration. It's at the heart of everything that we do. It's important to work with and value people from diverse and multicultural backgrounds. It's evident that ideation remains incredibly strong within our business and that leads to high quality, strategy, execution, and delivery."
It's this level of collaboration that Shailesh Gaikwad, Director of Digital Business at Cognizant Netcentric, agrees is at the heart of our company values: "I value Cognizant Netcentric because we're committed to success, ensuring collaborative efforts, and establishing connections for mutual benefit. At Cognizant Netcentric, we know and understand that these are very important tools for us to accomplish our goals.
As a result, from day one, across all our studios we encourage a culture of action and sharing instead of passivity and reservation."
Learn more about how we live Universal Love at Cognizant Netcentric
Our employees are proud to share that Cognizant Netcentric is a place where you can be who you really are. Maria Benites, one of our junior Backend Software Engineers, has one last insight into #LifeAtNetcentric and Universal Love for anyone interested in joining the team: "One of the things I enjoy most about Cognizant Netcentric is the space to grow. Professional growth -- and even personal development -- in the workplace is often thought of as a given, but I've experienced that this is not always the case.
Even in a remote environment, I've met people who have made me feel safe and supported. One of our core values is to never let our team down, and I feel we are more than a team. We do our best to understand, help, and go above and beyond for each other. This and many other factors make me feel like I'm surrounded by the people that allow me to be my best self".
We actively promote diversity and empower employees to be 100% themselves at work. Our commitment to diversity and inclusion also means tackling gender inequality and making sure that every single person knows what matters at Cognizant Netcentric: our mindset and how we treat each other.
If you're looking for your next opportunity to work in an environment where anyone and everyone can bring their best and truest selves to work, check out our latest job openings - we're excited to meet you!