Future of customer experience: the fan engagement data platform
We are entering a new era where any business can create compelling and personalized experiences based on innovative technologies like Adobe Experience Platform. Discover the fan engagement platform and personalization at scale business case.
Speaker:
Houda Benmimoun
Project Lead Consulting at Cognizant Netcentric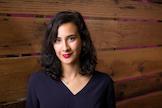 About this webinar
First released at the Cognizant Netcentric Summit September 2022, this talk takes you through Cognizant Netcentric's single x-Generation fan engagement data platform for marketers - the game-changer for fan engagement.
Our platform leverages the power of AEP to gain 1st party data ownership, unleash the value of personalization at scale through future-proof data driven real-time journey orchestration
Key Insights:
How your marketers can create a 360° view of their fans to personalize digital experiences at scale and expand the overall fan lifetime value
How your brand can use data platforms like this one to build brand loyalty and create new loyal fans for future revenue
How data, technology and the right experts can unlock the value of customer experience excellence for your brand.
More CX insights