A dynamic and engaging new website for leading provider of life science and diagnostics solutions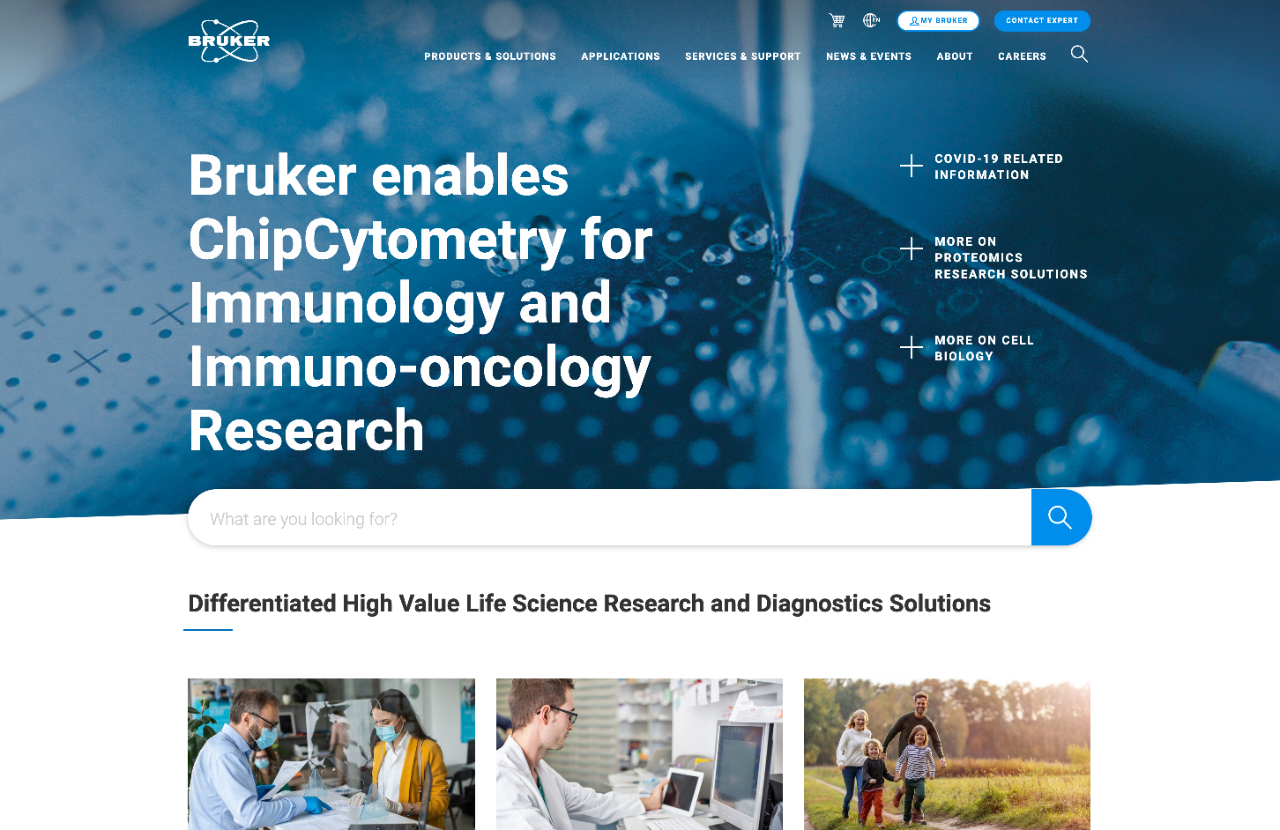 Introduction
Cognizant Netcentric partnered with Bruker to create a brand new website that empowered its content editors and put its industry-leading products front and center. The result is a state-of-the-art user experience combined with a powerful new CMS that allows Bruker to connect with its clients and deliver gold-standard customer service every time.
Challenge
Cognizant Netcentric was brought in to work alongside Bruker, a leader in scientific instrument manufacturing, to create a new state-of-the-art website to showcase their products and services to their audience of universities, scientific companies, and healthcare providers. A key challenge Bruker was facing with their legacy CMS was managing content changes with ease and at speed. Their previous system slowed down their content management, mainly regarding multi-language support systems, where they weren't able to translate different languages within their website. In addition, they needed to rebrand and update their user experience to optimize digital sales and product exploration. Cognizant Netcentric collaborated with a global Bruker team to realize the new digital experience and interaction strategy leveraging many new functionalities and solutions.
In addition to the enhanced website experience and Adobe Experience Manager implementation, Cognizant Netcentric supported Bruker's team to migrate their content from the old site to the new one and improved platform performance, including Adobe Analytics and a brand new integration of an identity management software.
Approach
Our approach began with identifying Bruker's essential requirements, so we had a clear idea of the project outcomes before we started. All stakeholders had a shared vision for the project. Firstly, the initial requirements were to enable dynamic content display on Bruker's website for product overviews, webinars, and teasers; secondly, to build a flexible and configurable website form that delivers data to SalesForce.com and was customizable by editors; and thirdly, to establish a centralized identity management solution. Using these initial requirements, the Cognizant Netcentric team could define with Bruker what the minimum viable product for going live would be, what the statuses were of the items delivered by the previous vendor, and what success would look like for our client.
Crucially, Bruker had established a central product owner that worked closely with the Cognizant Netcentric team to define priorities and processes. In addition, during the time of COVID restrictions, the entire project team was working remotely from the start to development and the go-live. We worked according to an agile methodology and focused on delivering the highest priority items, maintaining flexibility at all times to be responsive to shifts in requirements throughout the project. And even though we were remote, the working relationship between Bruker and Cognizant Netcentric was one of close collaboration, mutual respect, and trust, which enabled us to effectively overcome challenges and deliver an outcome we could both be proud of.
Implementation
We began our implementation by adapting the previous vendor's code for Core Components and building the Adobe Experience Manager code foundations. We extended functionality, and completed any missing elements during this process as flexible Column Controls and Form Components. This flexible Core Components Form Base allowed us to switch from the former hardcoded Salesforce Form approach to a flexible, editable one. And so, due to the multiple Salesforce Instances, our team needed only to establish the connections, but all different base structures could be reached just by doing editorial changes, no code changes required. That enabled the same functions to be used by forms where users could submit forms and ask for analytical equipment prices, which the Bruker team would receive emails or configure them to be sent to one of the four Salesforce Instances directly. We added functionality for customized search, based on content tags, to locate the products and articles they needed more quickly. We added the ability to build highly flexible pages based on adaptive components, which could achieve multiple requirements with small component groups leading to a more dynamic and customizable website structure.
Alongside this project, Cognizant Netcentric supported Bruker to transfer content from the legacy CMS to their new Adobe Experience Manager solution alongside this projection. This involved the manual creation of pages and content processing to ensure that their assets transferred to Bruker's new content management system were up to standard. We supported Bruker to detect any links to old or malfunctioning pages, or missing content and fix these issues using automated workflows to save time and resources. Cognizant Netcentric also supported the internationalization of content by auto-generating and translating regional pages for the nine different languages the Bruker site caters to.
Technology
Cognizant Netcentric equipped Bruker with a state-of-the-art tech stack to support its leadership in the scientific equipment space. At the core of their bespoke solution was an Adobe Experience Manager integration, which began with AEM 6.5.2 and will be continuously updated thereafter (currently on AEM 6.5.9). AMS hosted the stage and production environments. Cognizant Netcentric also supplied valuable integrations with Salesforce for user management, Keycloak for identity management, and Adobe Analytics for sophisticated data insights.
Outcome
The outcome of this close collaboration is a modern website that displays product content dynamically, features an advanced search functionality, and allows users to inquire about their products via a convenient online form. Bruker's authors have access to a sophisticated and centralized CMS, which unlocks streamlined content management and collaboration. Crucially, they don't need to rely on external agency support to configure updates to their site: editors have full autonomy over their digital experience. Bruker also has access to advanced analytics via the Adobe Analytics dashboard that can power data-driven decision-making and insights into how users interact with their site and products.
Results
Bruker's new website will facilitate better lead handling and client relations and increase sales conversions because product requests are handled quickly and efficiently. When digital sales are critical, Bruker's new website presents product data more engagingly and dynamically to attract more target users; as a result, 3 months after the launch, the site had generated a huge amount of site visits from new users. Also, with their Salesforce integration, the team can then receive and process requests and orders in a streamlined way. The powerful new search functionality allows users to rapidly locate the relevant webinars or documents relating to Bruker's products. The Bruker team has a centralized and straightforward way of sharing documents and licenses with their clients. This helps Bruker continue to build strong relationships with their clients, building brand loyalty for the long term.
The solution also gives editors more control to edit content. It reduces time to market for new assets on their websites, such as video and images, new products, and updated product information. Each tenant can access the site via a multi-layer permission-based access tool, enabling editors to manage content rights and permissions. Editors can also take advantage of AEM's multi-language tool to influence and amend translations for internationalized content and introduce region-specific descriptions. Also, their new solution gives them the ability to detect and track user experience based on their purchasing and browsing history.
We are proud that even though everything was done remotely, our partnership was genuinely positive and trusting. As a result, we were able to create a highly effective solution for Bruker. This project unlocks a sophisticated customer experience for their users, optimized content management for their editors, and future-proof infrastructure for business leaders that can be scaled and built upon in the years to come. This is a solution that cements their position as a frontrunner in the scientific equipment sector - and was made possible thanks to Cognizant Netcentric's expertise and experience building exceptional experiences for leading brands worldwide.

Thorsten Thiel, Global VP of Group Marketing at Bruker BioSpin - Life Science Research and Diagnostic Solutions, offered this testimonial: "Cognizant Netcentic stands for performance and strong professionalism: They are highly reliable, the quality of their work is always beyond expectations and projects are delivered on time. Consequently, the team manages to build trust as a partner for digital interaction, especially in our very analytical B2B high-tech environment. Even in small and highly efficient teams, Netcentric is able to support large international corporations and enterprises in their long term strategic transformations. We owe Netcentric a debt of gratitude and are excited about our long standing partnership with them."
Get in touch today to explore how Cognizant Netcentric could help your brand realize its digital vision and reinforce its market position.