Meet Cognizant Netcentric's AEM Rockstar: Angela Fabregues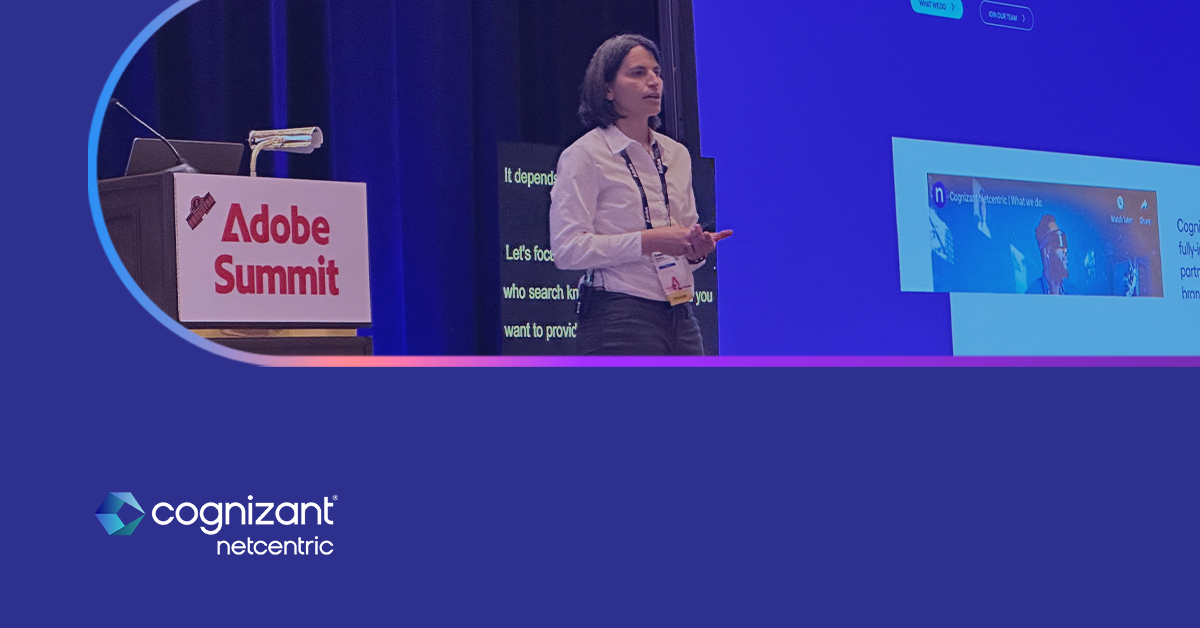 The ultimate digital experience conference, the Adobe Summit, is back in Las Vegas, reconnecting industry experts once again in person, as well as virtually, for three days of keynotes, sessions, and digital experience insights. Along with it, comes the unmissable AEM Rockstar competition, created by Adobe for the Adobe community.
Not only were two of our experts selected as finalists this year, but one of them has emerged as the winner. It gives us great pleasure to introduce you to the winner of AEM Rockstar: Cognizant Netcentric Applied Intelligence Lead, Angela Fabregues.
What is AEM Rockstar contest?
Launched in 2017, AEM Rockstar is a competition that has since seen explosive growth and popularity that has exceeded their expectations. AEM Rockstar is an annual competition hosted by Adobe that invites people to submit innovative ideas for solutions using Adobe Experience Manager, that they build, demo, and present at the Adobe Summit.
This year, two Cognizant Netcentric experts were selected as finalists: Andreas Haller, Principal Solution Architect, and Angela Fabregues, Applied Intelligence Lead. As this was also the first year that the Adobe Summit could be hosted in person again post-pandemic, Andreas and Angela were invited to present their solutions to the global community at the Adobe Summit in Las Vegas, resulting in Angela taking the title of AEM Rockstar 2023.
Innovative Adobe Experience Manager solutions at AEM Rockstar
The esteemed judges had many innovative ideas and solutions to comb through and select from. Here's what you need to know about Angela's winning search solution for Next-Gen Composability and the runner up, Andreas' next-generation serverless headless CMS solution which is also based on Next-Gen Composability (formerly known as AEM Franklin).
Improving search experiences with a cloud-native search solution for Next-Gen Composability (AEM Franklin) – Angela Fabregues
Observing gaps in the search experiences that brands today are able to provide, Angela presented a site search solution for Next Gen Composability that keeps search results fully in-sync with the website content by using a cloud-native pull after the notification connector. Many brand search experiences deliver subpar CX for their customers, and Angela's solution is about providing organizations the tools to build better search solutions leveraging the right context with Next-Gen Composability.
"There are endless possibilities in developing truly game-changing AI solutions in marketing technology. I'm excited to share just one flavor of what's possible at AEM Rockstar and hopefully inspire more innovation going forward." - Angela Fabregues.
Building a next-generation serverless, headless CMS based on Next-Gen Composability – Andreas Haller
Andreas presented a next-generation content management system built to drive the future of our client's website infrastructure using the latest Adobe cloud-native technology. The solution enables flexible, agile, and scalable web experiences, with content editing based on the new Next Gen Composability, and site structure and page layout editing based on AEM components, plus native support of server-side and client-side rendering based on Angular + WebComponents. Andreas' solution empowers our client to leverage out-of-the-box product features that fit seamlessly into their open, API-based architecture, leveraging the best of an Adobe tech stack. This makes tailor-made content editing and architecture not only possible, but scalable and resilient.
"With AEM Rockstar, Adobe creates a platform for sharing and pushing forward the cutting edge of marketing technology, and that's a great feeling." - Andreas Haller.
Learn more about us and connect with our Adobe experts
Aside from our expertise in classic topics within the fields of digital marketing and customer experience, we're positioned to help brands bring their digital strategy to life with the latest capabilities across the Adobe Experience Cloud - helping brands achieve customer experience excellence.
Interested in taking your brand's customer experiences to the next level?