Insights on Building a Robust Customer Data Platform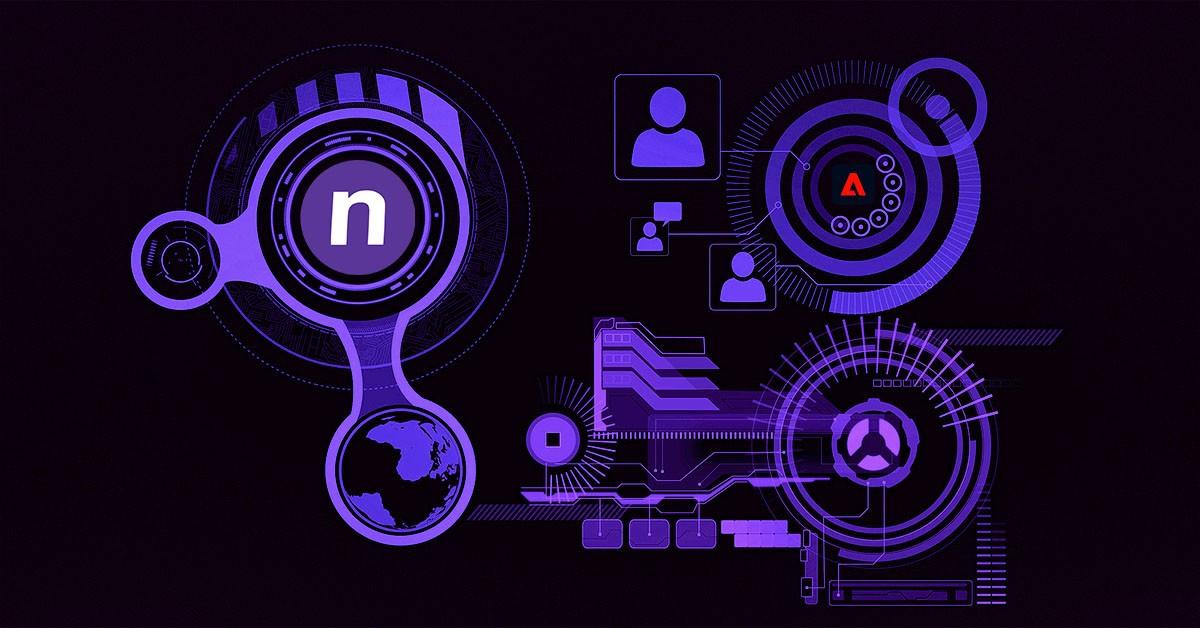 Data is the new gold. But unlike gold, we have far more data than we know what to do with. Between all the impressions, transactions, and points of interaction that make up a customer's digital footprint, the amount of data at our fingertips is growing exponentially – faster than we have been able to harness it. That's why it's important to get acquainted with the ecosystem around the management of data and, of course, learn how to leverage it to ensure business success.
Several challenges of leveraging data in marketing today
The marketing ecosystem is becoming increasingly complex, with a growing number of different channels (i.e., mobile, email, websites, microsites, social media, SMS). Many organizations end up centralizing data within their marketing platform, requiring different integrations for each tool, like their CRM, reporting tool, automation tool, and so on. This centralization can pose certain challenges.
As a result, the challenges are:
1. Create a closed-loop ecosystem for marketing and sales, as sales and marketing tools come with different data recon and prioritization models. (Learn more about how we leverage integrated platforms like Adobe Experience Platform to understand our customers.)
2. Build complete customer profiles from scattered data points, as this requires gathering data points from every online and offline event (i.e., visits, clicks, purchases) and stitching them together into a complete profile.
3. Identify new potential customers based on available data, as anonymous interactions must be properly identified and processed to help turn them into customers.
4. Forge stronger relationships with customers in an evolving digital landscape, as their needs change rapidly and require powerful real-time tools. These relationships are more vital than ever for brands to remain competitive.
While these are all challenges, they are not insurmountable. Today's technologies offer solutions to each of these points, cost savings, and more in a robust and cutting edge Customer Data Platform.
What is a Customer Data Platform?
A Customer Data Platform (CDP) is the system that centralizes all of this customer data, making it available to other systems to use across all customer experience touchpoints. This data includes almost everything there is to know about your customer: identity data, descriptive data, and quantitative and qualitative data surrounding their behavior. When creating a cutting-edge customer experience, the CDP is crucial to managing personalization and staying on top of industry expectations around privacy and protection.
Today, 78% of companies either have or are developing a CDP. This field is growing, seeing as 52% of executives claim a lack of coordination and the right combination of tools to build customer experience. Additionally, only 19% say they have the right set of technologies to create customer-data-driven decisions and campaigns. That points to the challenges brands face in finding the right CDP solution for them and the complexity of the context of these tools and technologies.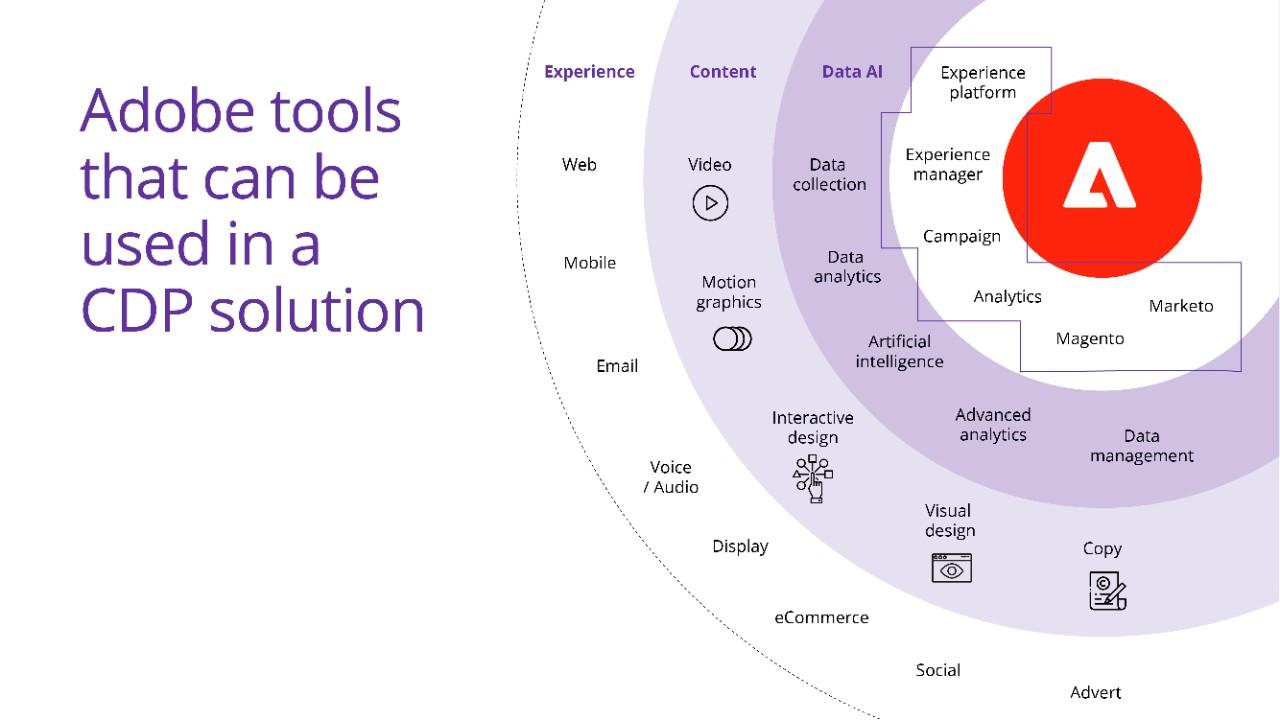 At Netcentric, we use a host of Adobe tools to create a complete CDP, including Adobe Experience Platform, Adobe Experience Manager, Adobe Campaign, Adobe Target, Adobe Analytics, Magento, and Marketo, customized to our customers' needs.
Leveraging the Customer Data Platform
Integrating and centralizing data in a Customer Data Platform is now best practice and a key enabler for brands who want to be competitive today and gain the consumer insights needed for success tomorrow. Managing and collecting marketing data well is at the heart of customer experience success - that's why it's the new gold.
Simply put, the CDP acts as the centralized hub of data connecting other sales and marketing ecosystems components. It also reduces the cost and effort required to set up multiple integrations for various tools and enables them to access this data and remain GDPR compliant.
Let's look at two examples of how brands are using CDPs to address their marketing data challenges within their marketing tech ecosystems.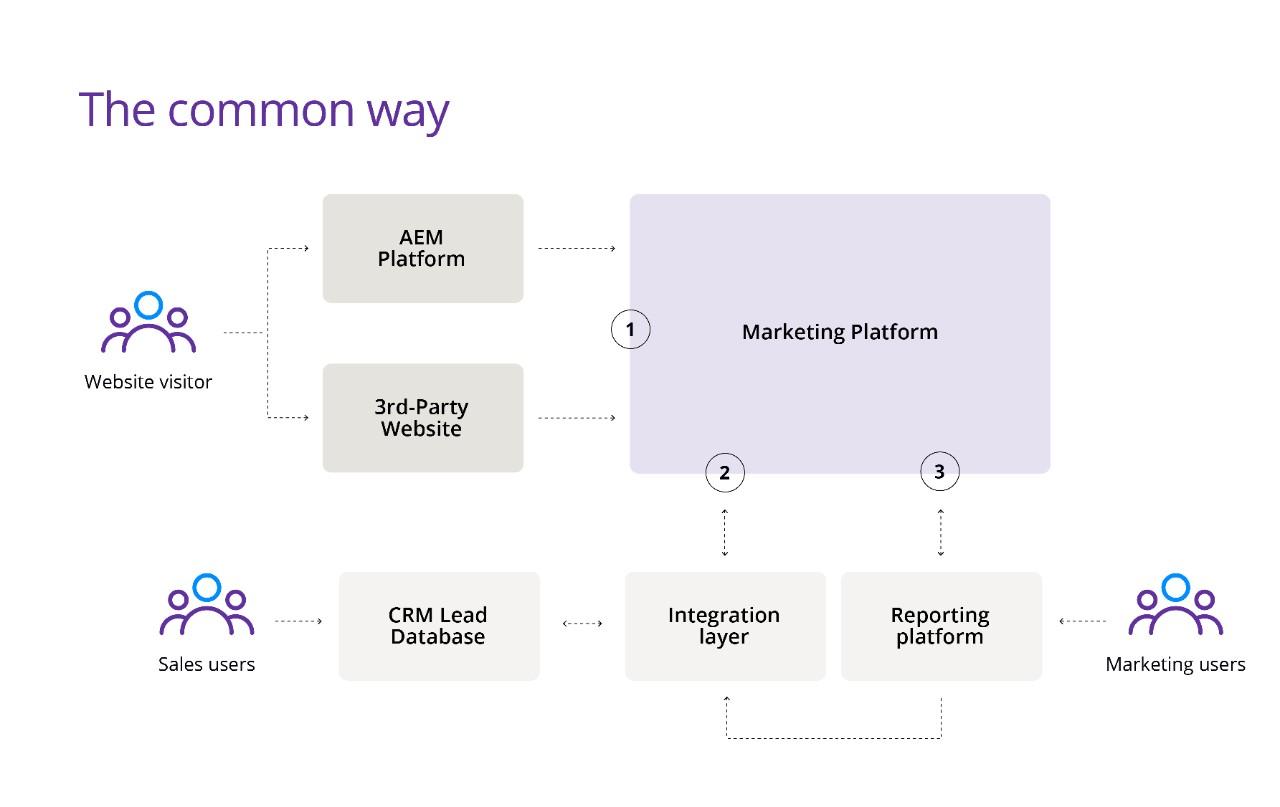 The above illustrates a common way of organizing and managing customer data, that we've seen frequently. While this model works, it misses opportunities for greater efficiency and productivity that are currently available.
In contrast, the following model shows a more robust and improved approach to building a CDP.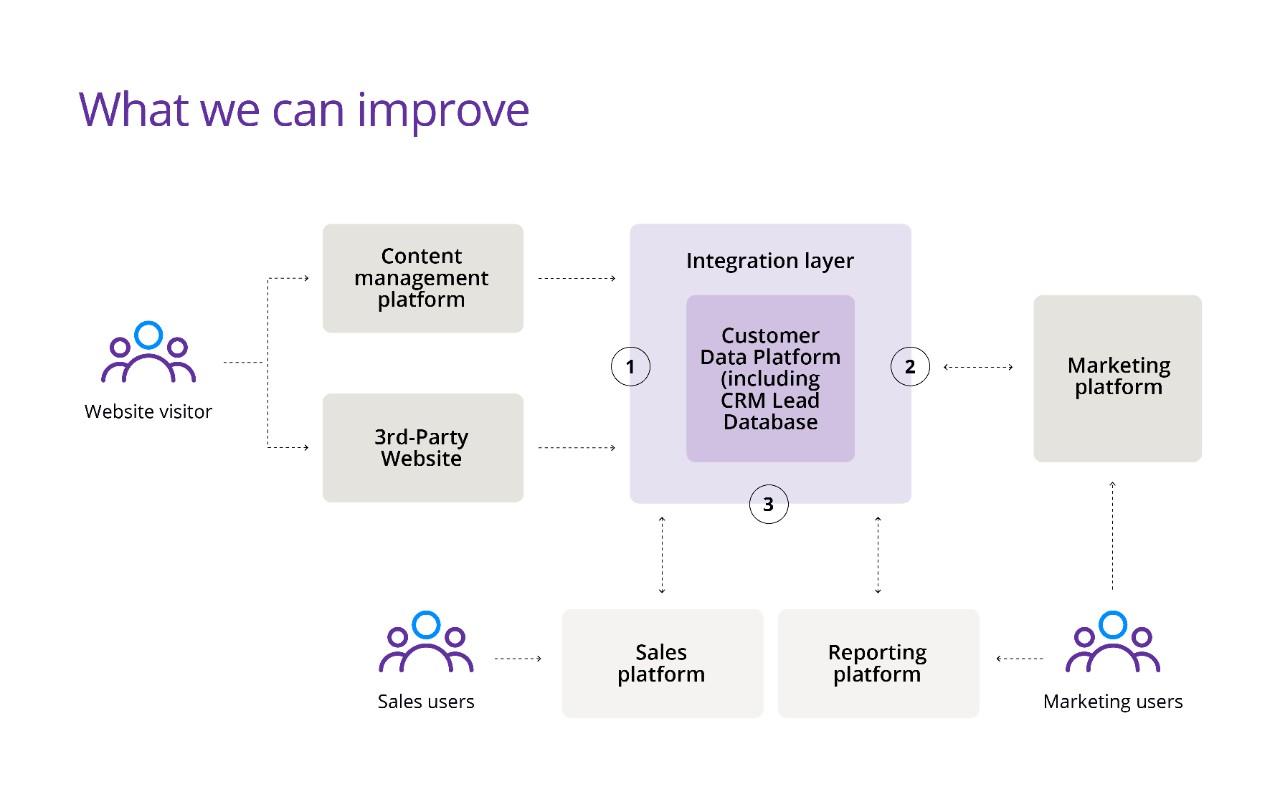 Key insights on a robust and improved CDP approach
The integration layer built on top of the CDP is crucial. It enables the different components of your ecosystem to communicate with each other (i.e., the website, marketing platform, sales platform, reporting platform).
This integration layer might be built with APIs, file-based systems (sFTP), database connectors, and more. For the Adobe ecosystem, two integration layers are used: 1) Adobe I/O, an API-based integration layer that can be used by any other system, and 2) OOTB Sources/Connectors that can connect AEP with any other tool (Adobe Analytics, Google Ads, Amazon S3, Azure, Google Cloud, Salesforce, Paypal, etc.).
With this improved approach, the CDP would be built with an integration layer that would provide a centralized database and communicate with the other platforms. As you can see, all 3 points of integration are pointing towards the CDP. The Marketing Platform remains a separate tool with its marketing-specific activities. Furthermore, the CRM Lead Database is included in the CDP, and the Sales Platform retains only its functional parts.
Wherever data is available, each platform is integrated with the CDP. Consequently, brands see cost savings since additional integrations between platforms are no longer necessary. We benefit from building solutions based on Adobe tools and enabling future expansion left and right as needed with just these few improvements.
Future of Customer Data Platforms
This is just a taste of what is to come in terms of leveraging that gold - marketing data.
When it comes to the digital world, we need to keep pace with customers' changing needs and expectations. The key to doing so is developing methods for data usage, processing, and management to help us automate our marketing and sales activities.
Technology is evolving fast to meet this growing need. Read more about how Adobe's Real-Time CDP helps businesses create real-time customer experiences.
Expertise to get the most out of your CDP
In terms of knowledge and expertise, these domains will be essential resources for your team to successfully build your CDP and optimize it for your needs:
Data Engineering: This is the technical discipline that focuses on how data is taken in, cleaned, stored, and accessed. While there are many tools for specific data engineering functions (for example, Kafka for data ingestion and MySQL for data storage), it's essential to work out of a cloud platform like AWS, Google Cloud, or Azure.
Marketing Technology Engineers: This is the expertise that brings it all together: experts who straddle the worlds of marketing and technology and can understand how to build custom solutions to enable your organization to fully leverage the benefits of a CDP.
CDPs, especially robust and advanced ones, can help solve the conundrum of multiplying data points and integration methods and help your organization produce a centralized platform as the foundation for your customer experience strategy.
Interested in learning more about centralizing intelligence and the benefits of a CDP? Download our white paper today. Alternatively, get in touch with us to learn more about how our team of experts can work with you to develop tailored solutions to achieve your business goals.