Learn more about Life at Netcentric
From our Netcentric People in Bucharest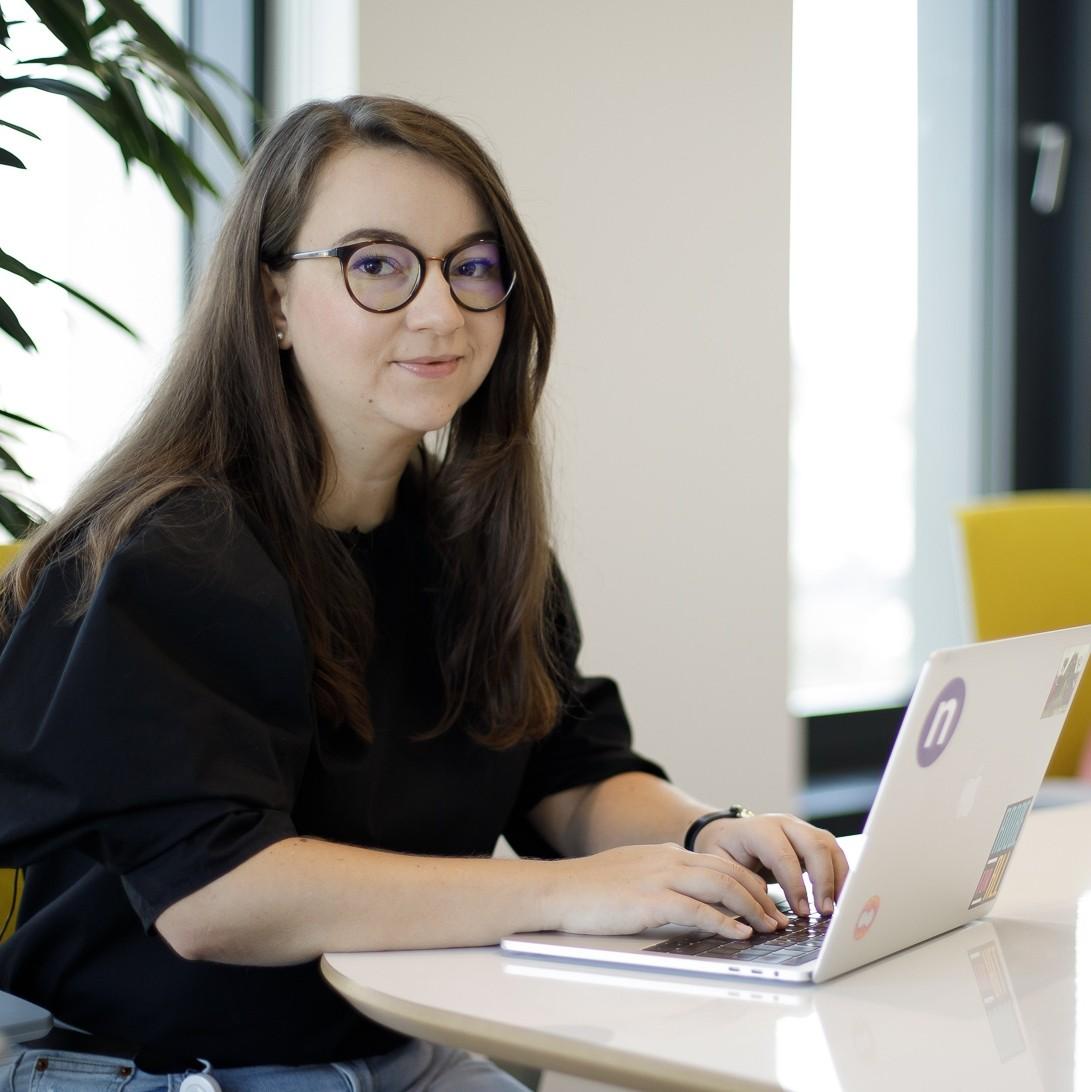 Netcentric is the place where company's values are lived every moment
Raluca Tanase, Senior Digital Marketing Operations Specialist
There are 3 main reasons why I love working at Netcentric: the people, the mindset and the continuous journey for delivering excellence. Netcentric was the first company that convinced me to join purely by its culture. I took a leap of faith and came here because I wanted to see how would it be to work in a company that embraces Holacracy and puts its values first.
After 2 years here, I can confirm that its values are not only a statement on a website page but principles that guide on a daily basis the people in the organization, no matter the role you play.
Only now I understand how important it is to be in a culture that encourages a healthy mindset across all the main players: customers, employees, projects. And by healthy I refer to a lot of things we do on a daily basis, that add up and result in this beautiful organization: we go the extra mile for our customers, we create partnerships and not purely business transactional relationships.
We ask very often WHY?, continuously improve HOW, lead by example, learn from mistakes and foster an environment which offers growth opportunities.
Here I have found the space to grow, improve, come up with ideas, listen and being listened and having the opportunity to take ownership for the things I want to change (on a personal level and beyond). It takes a strong character to act and not only complains and I think this is why Netcentric became in a short time, a strong team.
Every day I learn something new and every day I have something to admire about the people around me.

I think this deserves a "Thank you, Netcentric".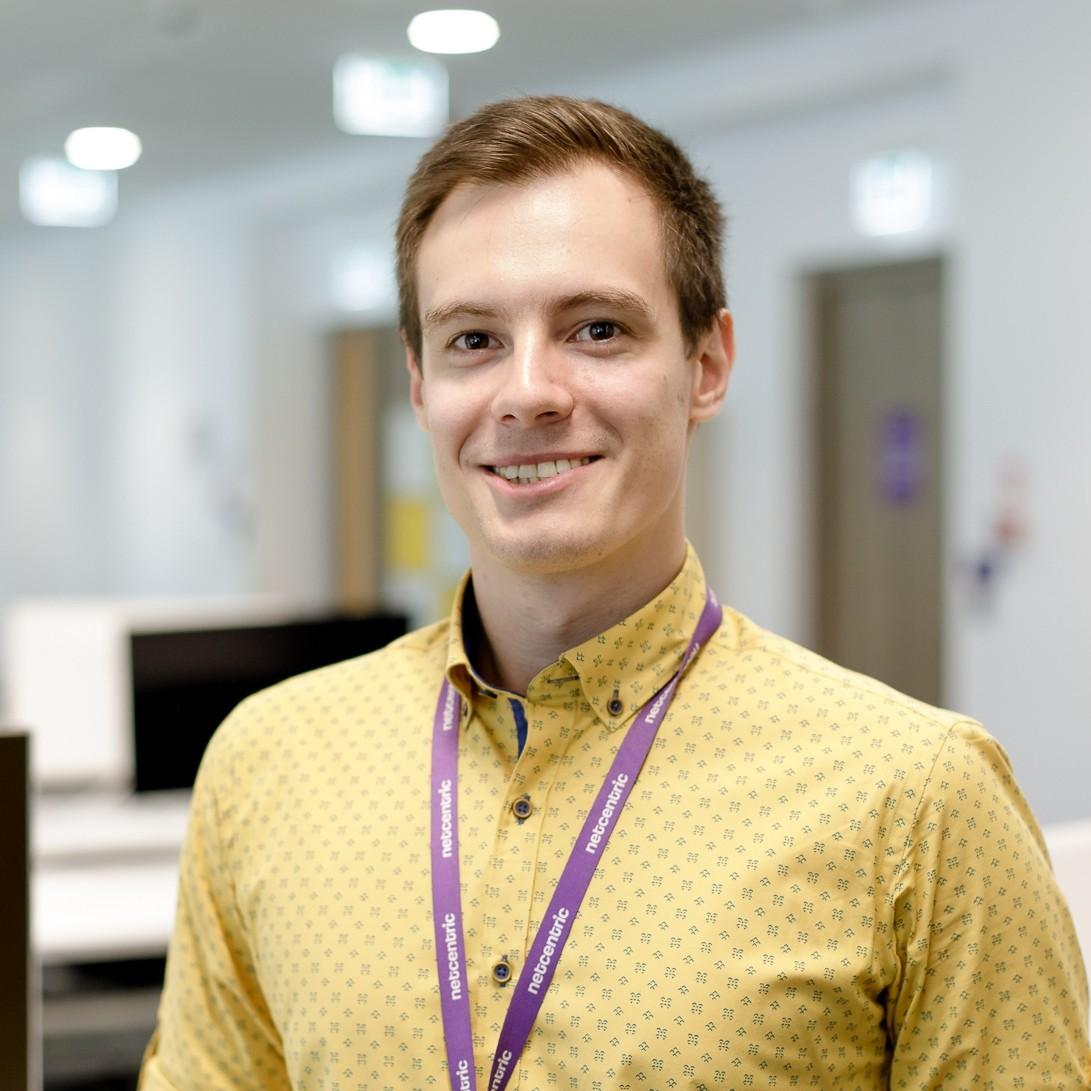 Netcentric is the place where I go with a smile on my face every day
Ciprian Bodnarescu, Junior Backend Software Engineer
I joined Netcentric in 2017 and I can truly say that I cannot get enough of it! Netcentric is about the people and the trust they are invested with. There are continuous improvements which are meant to increase the employees' satisfaction: certifications, trainings and many internal and external events where I can interact with colleagues from other offices too. On top of that, can I be more excited about all the cool perks in our office?
I like that the company has a new and fresh way of thinking which other companies do not have. What I appreciate about Netcentric is the idea of working from home. What surprises me is that even if we have the possibility to work remotely, we still come to the office to interact and #make-netcentric-a-fun-place-to-work together.
Here at Netcentric, I am not only working with people that have guided me from the very beginning.
With the wide range of backend tasks, I acquired a lot of new skills related to AEM development: components built with Java models, Sightly, OSGi Configuration Services and many others.
Besides the backend pathway, I also had the opportunity to work on Automation Testing using Galenium and I accepted the challenge. I feel it was the right decision because I started to improve myself and to gain more development knowledge in an accelerated manner.
What I think that makes a difference between Netcentric and other companies is that here I am encouraged to be more autonomous and I have the possibility to get involved also in projects outside my role and develop my soft skills and capabilities like organizing internal events. Thank you, Netcentric, for guiding me to be the best version of myself.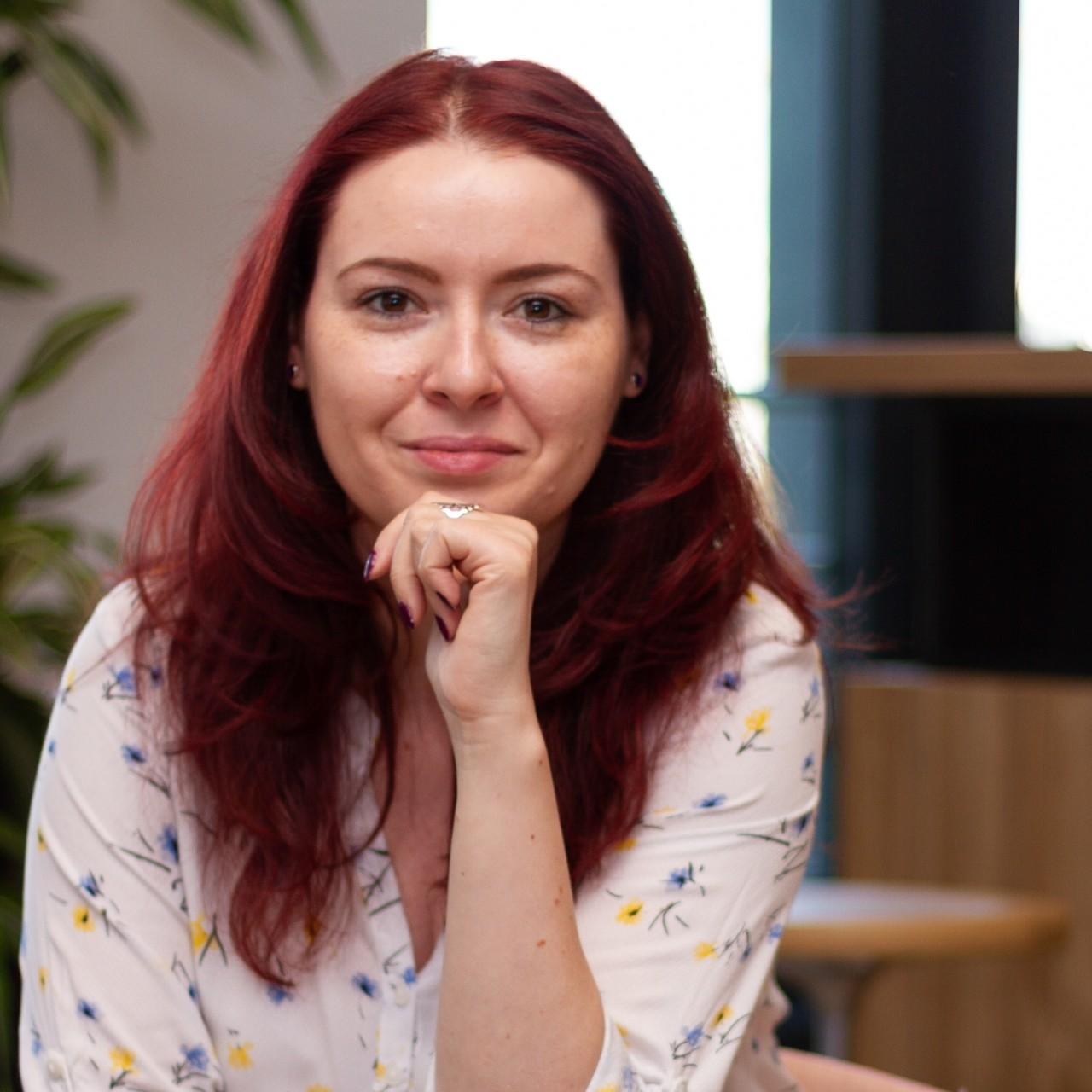 In Netcentric I found a place where everyone's voice matters
Gabriela Cernea, Senior Quality Engineer
I joined Netcentric after a series of jobs that, despite the fact they helped me grow professionally, did not complete my vision on how life at work should look like. While the Romanian market is still dynamic and filled with diverse professional challenges, in Netcentric I found a place where my voice matters, where I have the possibility to make changes or improvements not only to the project workflow.
What first attracted me to Netcentric was the Adobe Stack and the possibility to learn the Adobe Experience Cloud from its core. It was something new for me, an area where I was able to use my knowledge and expertise as I wanted, without being pressured to follow a certain flow.
I have the opportunity to get involved in standardizing the QA flow at the company level, while working with amazing and dedicated people, with whom I was able to interact and have knowledge sharing sessions, allowing us to continuously improve our development, tech and soft skills altogether. Netcentric is a company where people's way of thinking and interacting are a priority.
As a Senior Quality Engineer, since I joined Netcentric, my professional career was on a positive trend. Besides working on my QA projects, I used my expertise in projects outside my area by getting involved in various internal projects, the major of them being the Bucharest Netcentric Academy, a project I got the chance to shape from the beginning and use my knowledge as a teaching tool for youngsters interested in my area of expertise. It was an amazing experience and I am looking forward to the next one.
Last but not least, what I appreciate about Netcentric is the openness and the company structure. It has a different organization mentality, you can talk with everyone, no matter their seniority level or office location. Being a diverse and multicultural company, it enables me to interact with different mentalities, ways of working and cultural personalities and never feel like the day gets by without learning something new.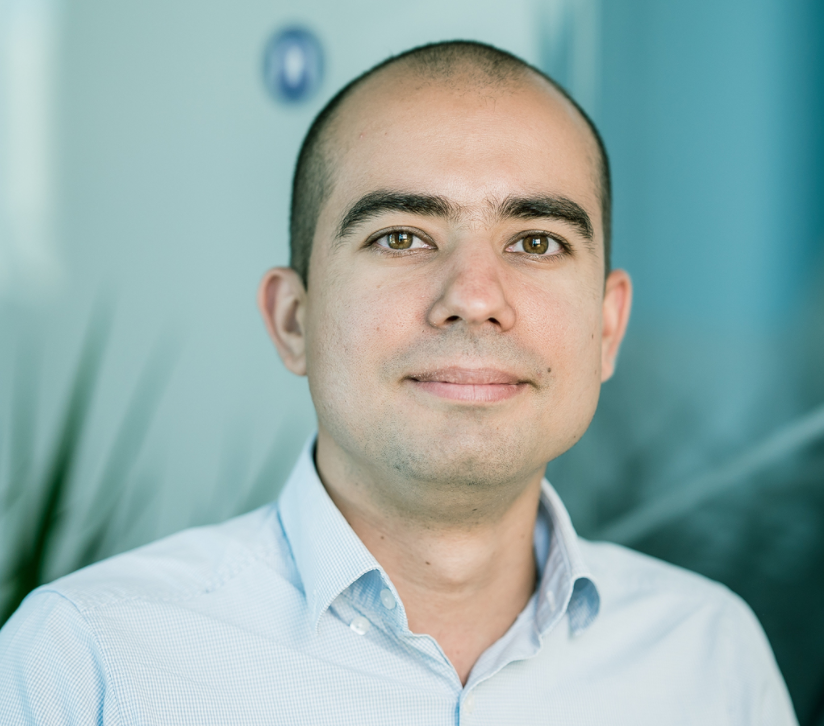 In Netcentric it's all about trust
Dragos Popa, Senior Quality Engineer
What's life at Netcentric about? I would say it is not only varied and challenging, but it also brings together amazing people you can befriend easily and with whom you can spend quality time both in or outside the office. I think this is one of the things I like most here: the people. Netcentric invests in creating a community of like-minded and yet diverse professionals who are ready to help and never let the team down, regardless of their seniority or location on the Netcentric's worldwide map.
I joined Netcentric 2 years ago, just a few days before my birthday, and I still think it was the right decision at that time and now. The different culture and organizational structure drove me to choose Netcentric as my next professional challenge and gave me the opportunity to develop my technical and soft skills, the freedom to initiate change, to use up-to-date tools and technologies and to experiment using my creativity and knowledge.
Besides being involved in a multitude of projects that helped me gain expertise, I appreciate that my voice is heard and I am encouraged to exceed the highest standards and become my best version. Holacracy helps a great deal here by allowing each and everyone to propose changes within workflows, projects or the work environment.
In Netcentric it's all about trust. The company trusts you upfront and it provides you with all the needed tools to perform your accountabilities and responsibilities in the easiest way.
I enjoy the possibility to work from home and to connect with teams from Germany or Spain or other offices on the go.
As Quality Engineer, I like that I am involved in the entire development process and that we work agile. Plus, the projects are distributed, you can work with the development team from other locations and still feel integrated and aware of the bigger picture. I can also explore different tools and go beyond the project limits by sharing knowledge in written blog articles or by giving talks at the company's summit. #share-discuss-and-bring-ideas-to-life is, in the end, one of our core values.
Exceeding my professional role, I activate as a People Success Lead, which is really awesome. I am now in a position where I can help other people to grow and develop and I find it very moving that someone can rely on me for support and guidance. Because this is how "normal" should look like in each company.
Summing up, I think that what's important in Netcentric is the fact that people share the same values, no matter the nationality or the culture. We are built as an inclusive community, where everyone, with no exception, is approachable and willing to help.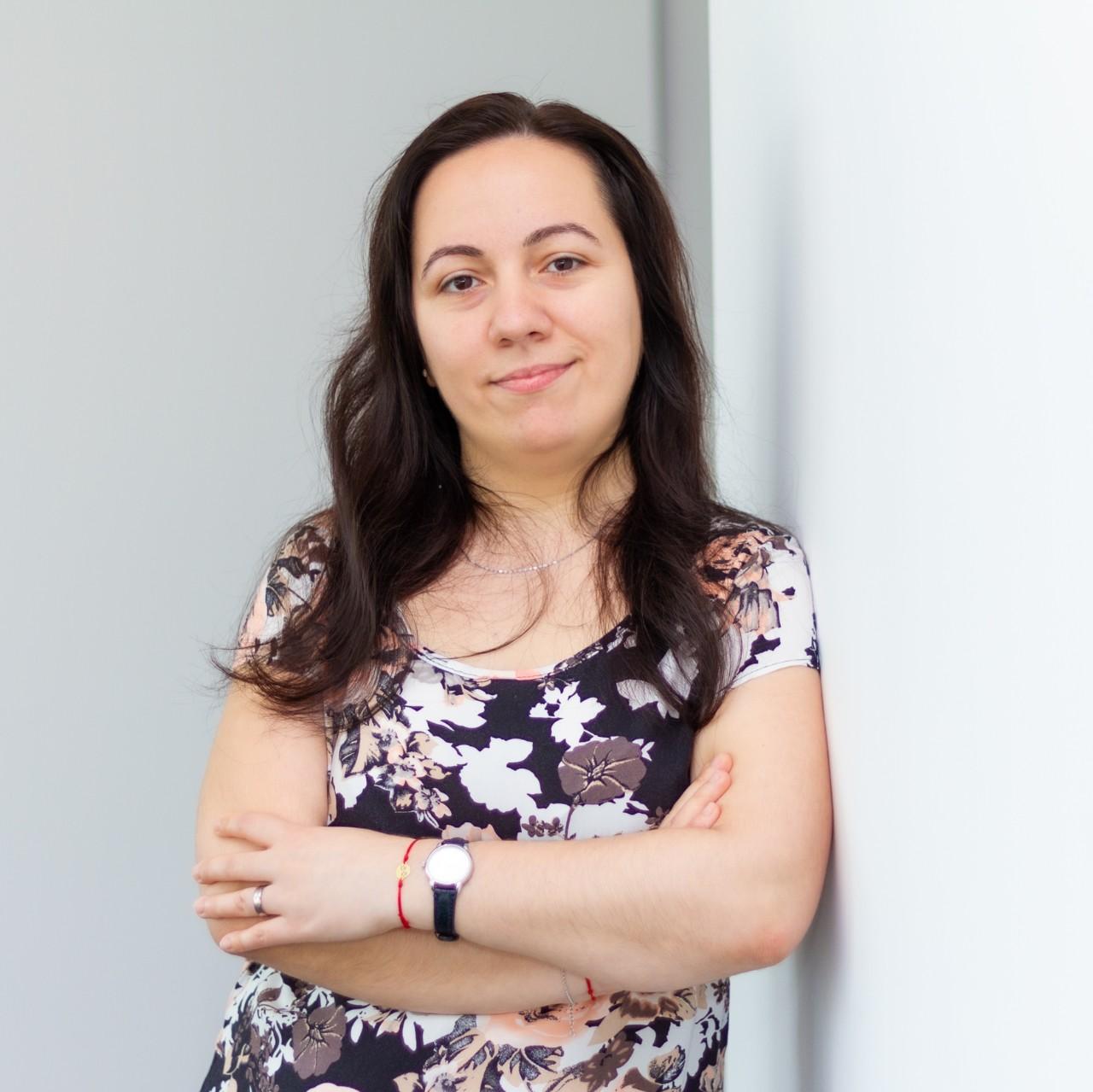 In my search of diversity and space to grow, I found Netcentric
Olga Preda , Marketing Automation Technical Lead
In my search of diversity and space to grow, I found Netcentric! Back then my main purpose was to learn as much as I can (especially from a technical point of view). After a couple of years, I realized that the constraints of a cold, corporate environment were limiting my space to grow and to learn new things. Then, I found Netcentric which enabled me not only to grow from a technical perspective but also to have a new mindset that allowed me to be aware of other aspects of my professional life.
Since I have joined Netcentric, I have been acquiring new skills related to SQL&Databases, Javascript, System integration (APIs) and Marketing concepts but I have also been sharing my knowledge with my colleagues and I have been working every day towards helping others grow and learn new technologies.
What I love in Netcentric is not only the fact that you have the autonomy and space to grow but you also contribute to others' growth. From this perspective, one of the best experiences in Netcentric was to be part of the Marketing Automation Academy which added to our team a lot of talented people and it allowed me to have a significant role in helping them learn new things.
As a Marketing Technology Engineer, I can say that diversity is part of my professional life due to the fact that it involves working with systems and technologies of all kinds. I have always been more interested in backend technologies as it added more complexity to finding technical solutions and this role enabled me to keep up with more and more complex Marketing platform solutions.
What makes Netcentric special is the people in it. My colleagues helped me grow and more than that, we came closer together and built up a friendship rather than a professional team. We are taking part in all sorts of outside work and get-together events which make us feel that Netcentric is not the classic company with a cold environment but rather a place where we work together towards the same goal and have fun at the same time.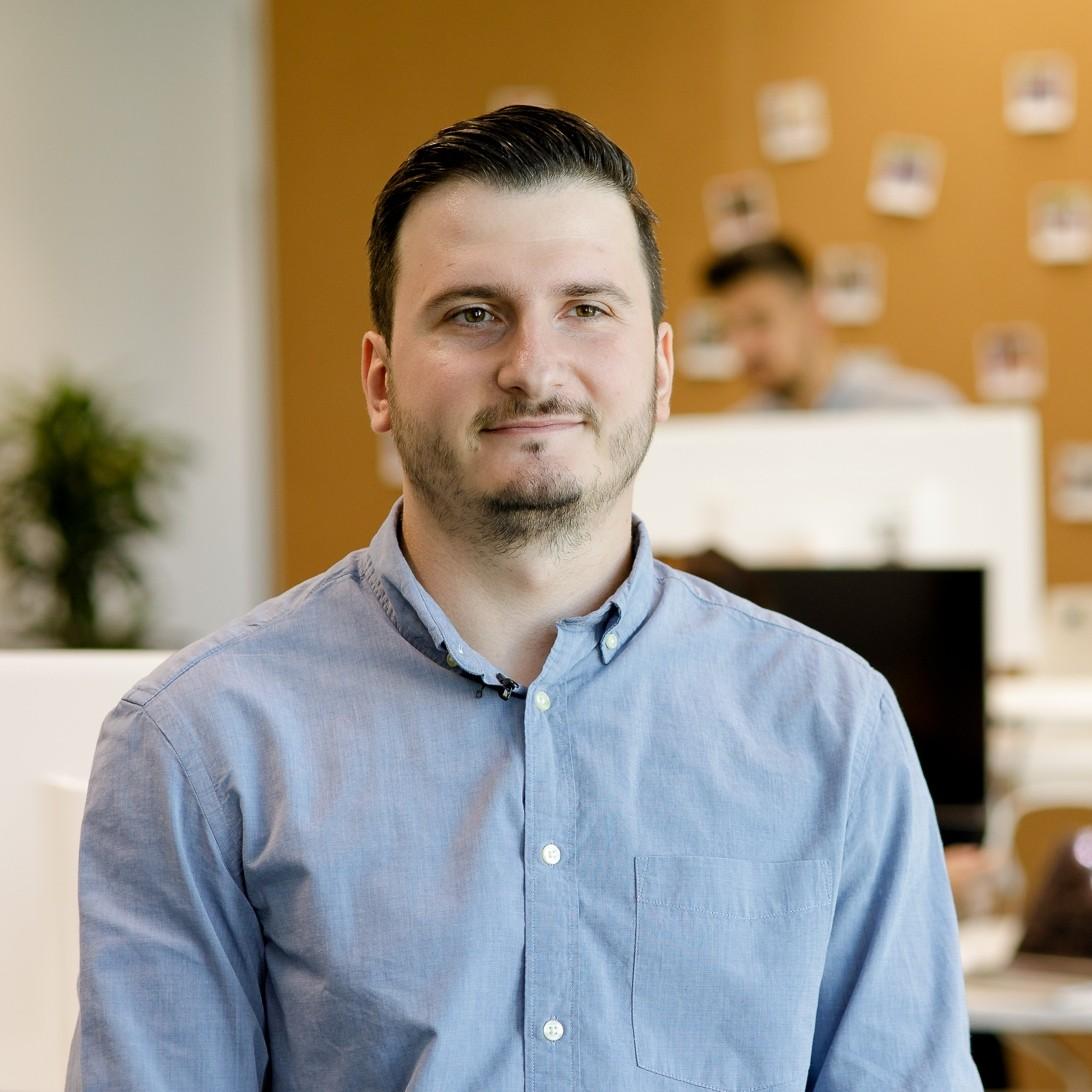 In Netcentric you can be the kind of system engineer that moves extremely fast and comes up with crazy new ideas
Andrei Pietrosu, Senior System Engineer
I was always interested in how things work and how components fit together in order to create a bigger ecosystem. Before I joined Netcentric, I always felt somehow boxed in, felt like my initiatives and ideas for improvement always ran into the "we can't do that", "we need a lot of approvals" or "we don't have any procedures for that" walls.
Netcentric was the first company where I could constantly implement new technologies, improve processes and actually be able and encouraged to make a change.
As part of the Netcentric team, I have the freedom to contribute with my vision to the workflow and I'm accountable for my ideas.
One of the aspects I like in Netcentric is the continuous innovation on the projects we run.
As a Senior System Engineer, I was interested in the learning and growing opportunities Netcentric was able to provide me.
Since I joined the company, I worked on out-of-the-box projects and used some of the most trending infrastructure tools, like CloudFormation and Terraform, and also interacted with cloud providers, like AWS and Azure. This allowed me to build extensive knowledge in automating cloud infrastructure.
Netcentric also provided the support I needed not only to develop my career and professional skills, but also it provided me guidance to improve my soft skills and the chance to become a mentor for younger people, to guide them into their professional and personal development and learn more about the importance of making people a priority in the company's development process.
Being part of the Netcentric team is always a reason to feel proud of. Your work is recognized and appreciated, which encourages and enables you to want and to get involved in the company's activities or initiatives, to exceed the standards and to contribute to the unique personality that Netcentric has.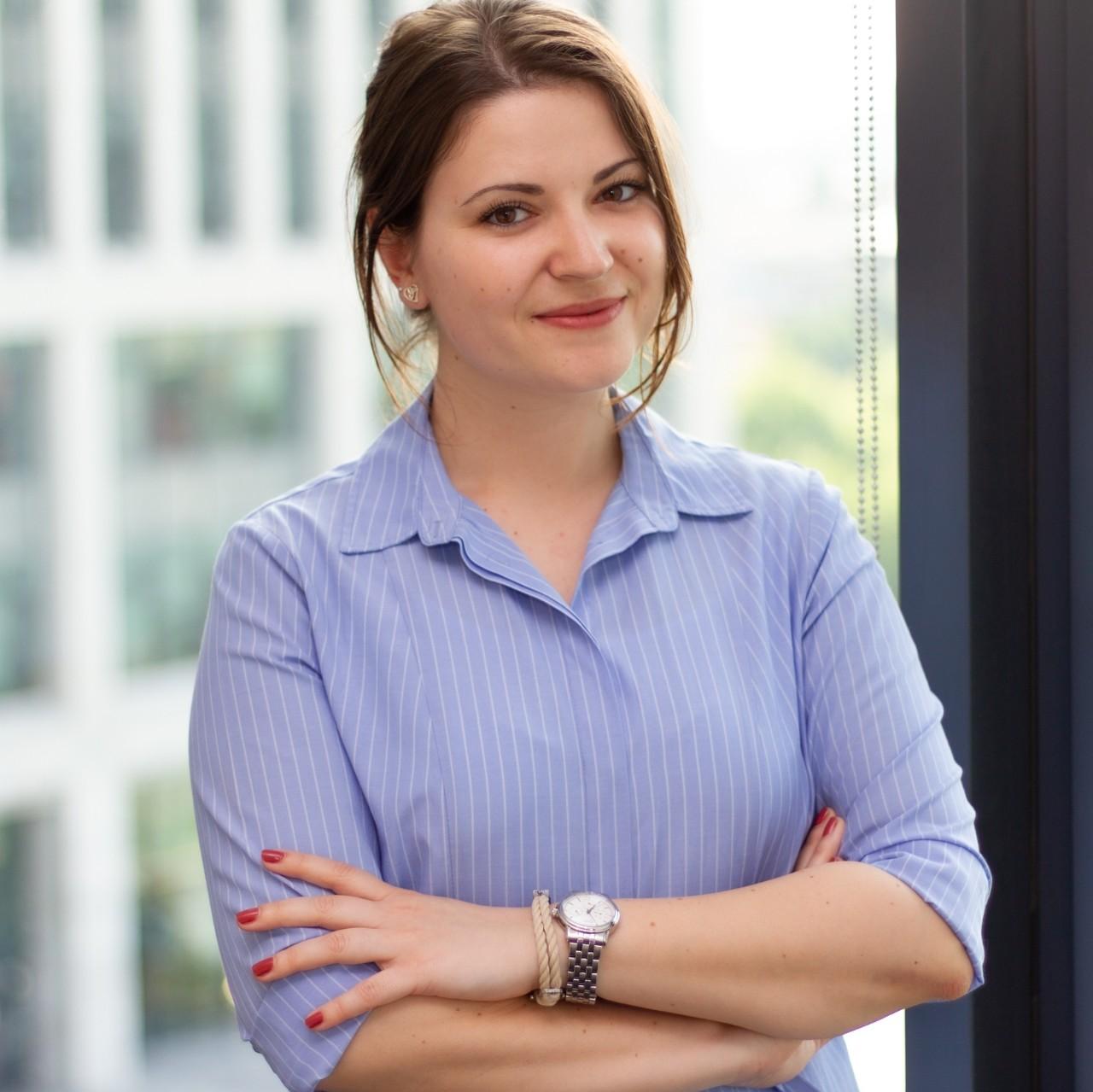 At Netcentric I found the perfect place for personal and professional development, being surrounded by amazing people
Iuliana Zaharescu, Talent Management Administrator
I joined the Netcentric office in Bucharest almost 3 years ago, since its very beginning and it was such a beautiful journey so far! I started by handling various administrative tasks and then I got the opportunity to focus on the part that I like the most: Human Resources.
For me it was a continuous growth; on the one hand, the team has expanded very fast and on the other, the knowledge that I gained during this period of time I would probably have gained by having 3 different other jobs simultaneously.
The autonomy and trust that you are being given come with responsibility, but it's so rewarding! You are encouraged to get out of your comfort zone by taking on challenges and seeing them as opportunities.
Your voice is being heard, your opinion matters and you are able to change things if you consider that something is not working. This is so rare in a traditional company, but at Netcentric this is normality, the way we live and we work.
At Netcentric I found the perfect place for personal and professional development, being surrounded by amazing people. And that's exactly what makes Netcentric a special place to work: people. I feel like being part of a big family, with colleagues and friends at the same time, having fun, working hard, supporting one another and bringing ideas to life. I feel like home.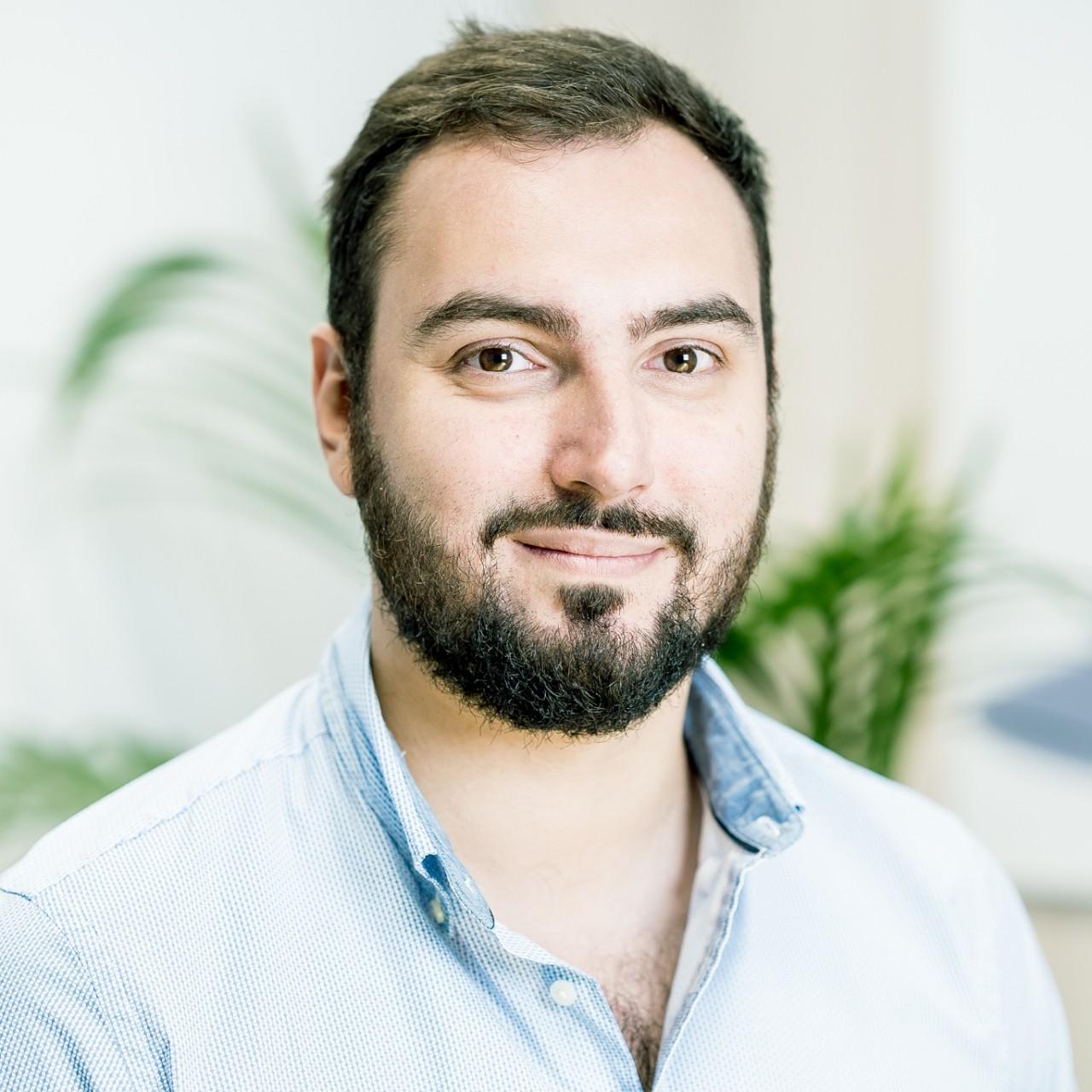 At Netcentric, it's now normal to me to live in a culture of constant improvement and learning
Alexandru Marinescu, Senior Digital Marketing Specialist
Looking back at my first year working for Netcentric, A Cognizant Digital Business, I'm fascinated by the things that seem normal to me now, but look so strange from the outside. At Netcentric, it's now normal for me to live in a culture of constant improvement and learning.
After 1 year, it's normal for me to have a person dedicated to my personal development.
It's normal to first check what opportunities there are for my team to develop and then ask myself how to still deliver the highest standards for our clients when somebody outgrows their role and moves to a more complex project. It's almost a routine adapting our processes because somebody thought of a better way to do things.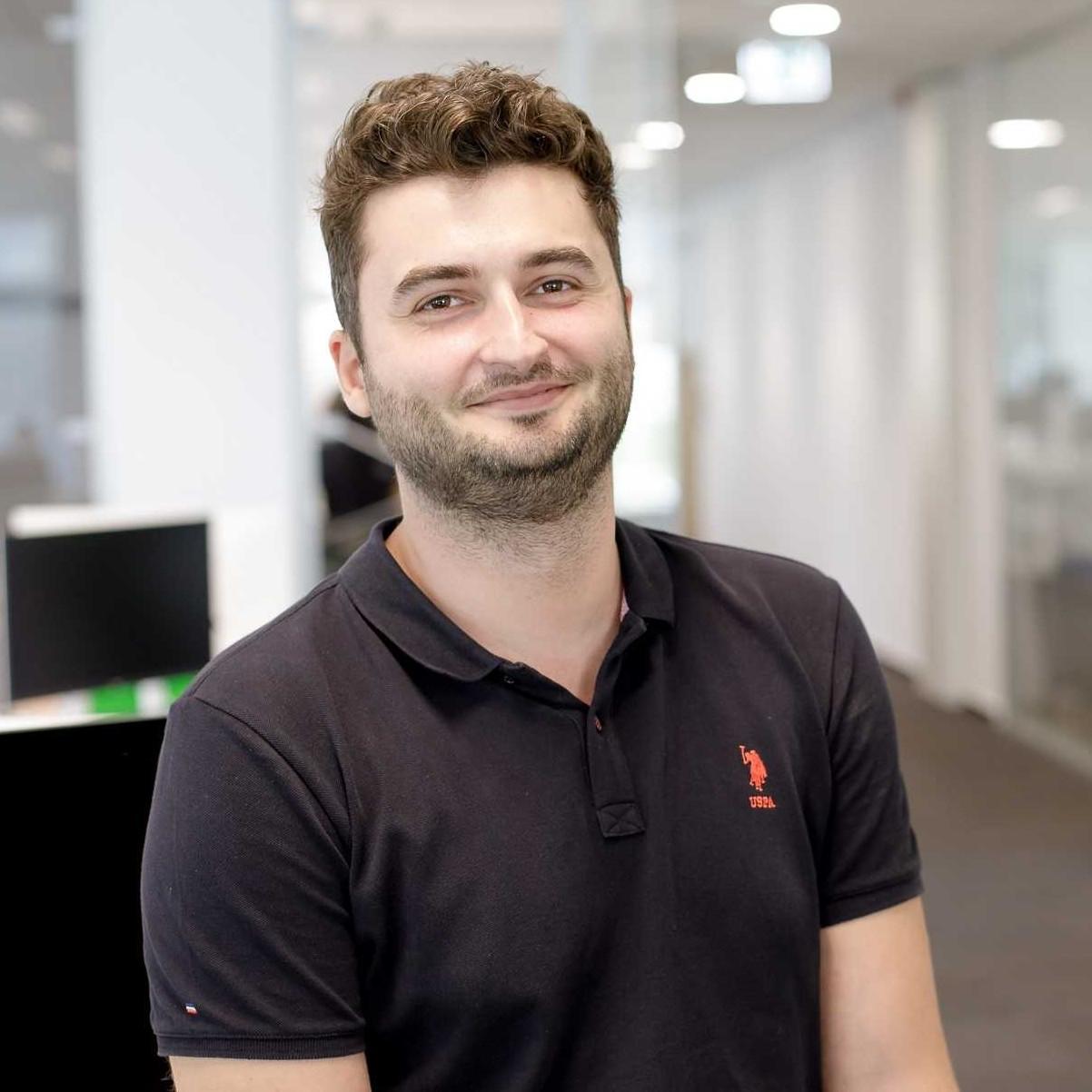 Speak up, take action, get involved, empower, feel empowered, feel trusted, adapt.
Bogdan Udrea, Senior Support Engineer
Netcentric is just that. It is that place where you can come daily and feel like you're in a fun, professional and relaxed space, rather than a workplace. Here, I found open-minded people with open-minded ideas. Together we managed to put in place the first Application Support team in Bucharest, a team that delivers to its expectations and strives for greatness.
How did we do that? By being there for each other, being responsible, autonomous, by experimenting and going the extra mile for the common goal. We were able to achieve all of the above, thanks to the trust Netcentric has put in my ideas and plans for the future.
During these years, I learned that if you have a voice, Netcentric is ready to hear it and go forward with it and also, if you need guidance to find that voice, Netcentric is there to support you in achieving your goals.
One of the aspects I purely love here is the fact that you don't need to occupy a certain position in order to get yourself involved in other things if you feel like you can add value and handle other activities than your daily things; of course you can focus on both the technical aspects of the delivery and also the soft ones like improving the processes, the ways of working, recruiting, proposing changes or creating standards.
Being a People Success Lead allowed me to develop some soft skills I never knew I had and helped me to better connect with the people in the company. I felt empowered to take the lead and seize the opportunity, then, when the time came, I encouraged the people around me to do the same, I supported and guided them towards achieving their Netcentric career goals.
I find Netcentric a mature company that truly sees the value in respecting and listening to its employees
Ruxandra Chirea, Junior Frontend Software Engineer
I've joined Netcentric one year ago, after a very hectic full-stack contracting job. I was looking for a company that would give me stability and prioritize my professional growth. I'm happy to say that Netcentric has given me all that and so much more.
There are so many things about this company that feel coherent, natural and healthy. I like the fact that every employee is treated as a partner and emphasis is always placed on the fact that we are working towards the same goal. We are regularly updated with whatever is happening around Netcentric, clients, projects, revenue, interesting initiatives that our colleagues are having in all offices. Every victory for Netcentric feels like your own victory and I find this type of engagement very satisfying.
The idea of partnership is also present in your day-to-day activities. You don't feel like you have to deal with rules that are there just for the sake of being rules. The context of what you have to do is always explained, you're encouraged to question and discuss, nothing is ever set in stone. What I personally found really valuable is that, even as a junior dev, you are offered various insights regarding client discussions, negotiations and what is expected from your project. You know what you're working for and you know the impact it's going to have.
This kind of flexible and open mentality also applies for moments when things are not going as smoothly. Yet again, everything is discussed and the context is always explained, regardless if the topic is positive or negative. And for the negative occurrences, the mindset is to always focus on objective criticism and finding the best solution. I can't help but admire a company that sees the value in openly admitting faults and that strives for constant improvement.
I also like how amazingly organized everything is. Information about every concern you might have is always very comprehensive and well structured and, if you don't find what you need, you're welcome to make your own contribution.
Working here has also proven to be incredibly fun and interesting. Through Netcentric, I have visited two new countries, played laser tag for the first time, sang at karaoke, went to my first ever sporting event and discovered that I'm not that big of a fan of amusement park rides. You get to hang out with a lot of interesting people, local or otherwise, and it's just a very exciting atmosphere all around.
Ready for a new career direction?
Netcentric Romania
Follow us!
facebook
Netcentric
**