Large-scale Adobe implementation for a leading financial service company
Cognizant Netcentric partnered with a leading European financial services firm to implement a new platform based on the Adobe Experience Cloud, so our client can continue to stay at the forefront of a rapidly evolving sector and ensure technical excellence.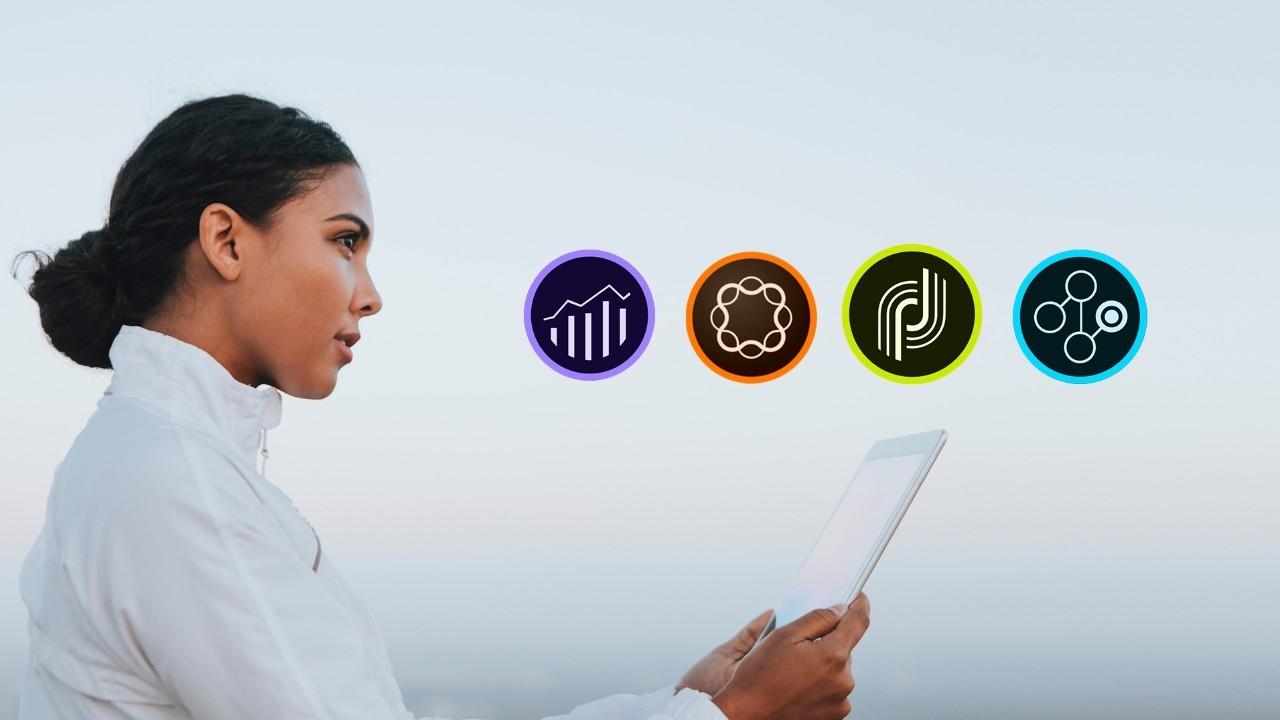 Challenge
Cognizant Netcentric was brought in to support the implementation of an entirely new digital solution for a leading European financial services firm. This digital transformation formed part of an ongoing digital renewal journey for our client to build a new technological foundation that will stand the test of years of market evolution and rising customer demands. A key pillar of the project was enabling this business to leverage state-of-the-art technology in the form of the Adobe Experience Cloud. Therefore, Cognizant Netcentric was involved in the implementation of a new platform, which will provide the basis for future lead-generation management, so our client can continue to stay at the forefront of a rapidly evolving financial service sector and ensure technical excellence.
A key challenge here was to realize a completely new platform to enhance the functionality and usability of the firm's digital channels, including their sites, email marketing systems, analytics, and personalization. This can be represented by transformational pillars: the move to digital by default which increased performance, simplified processes and laid the groundwork for a future of exceptional digital experiences. During this transformation, project teams had to navigate the large, complicated infrastructure previously in place. Cognizant Netcentric closely collaborated with multiple departments of the customer, working onsite alongside various organizational entities. This encouraged a close knowledge transfer, regular communication and a joint approach to this large-scale project.
One of the company's goals for this transformation was to deliver a more customer-centric digital experience across channels, to meet the demands of a global audience. Therefore, before the implementation phase, there was an intensive period of UX research, involving user testing, design research and focus groups. This helped us develop a look and feel for the new site that suited customer behavior and needs, and formed a research foundation for the entire implementation.
In addition, to deliver a more customer-centric digital experience, initiatives were implemented that focus on user needs. These included a global log-in that allows customers to access all their services using the same account, ensuring a seamless user experience and improved data protection. Soon to be released is a customer area, which provides users with a single point of access for online services and information about their account.
Approach
The project had five key pillars at the heart of its strategy, which allowed us to add value for this client beyond technological implementation. These included changing mindsets, facilitating collaboration, becoming more transparent, introducing agile practices and empowering other departments to move in the same direction with their workflows.
Finally, the new group platform has to serve multiple geographies, each with their own specific needs. For instance, the client is among others engaged in German business, which is a large market with specific customer interests and user focus. Therefore, we needed to jointly come to a solution that would allow for a customized German layer, which still remained compatible with their international platform. In order to overcome the international challenge, a specific scrum team was allocated to the German site of our client, to develop a more customized platform that remained compatible and aligned with the platform for a while. By collecting requirements, prioritizing certain functionalities, then creating an initial Minimum Viable Product (MVP) and adapting that to their platform code, we have been able to develop a Germany-specific site, which was in April 2019. This is tailored to the specific demands of this location, whilst remaining aligned with the experience and code of the rest of their digital properties.
Implementation
This wide-reaching project started out as a small-scale transformation involving a single journey for a product, implemented in early 2017. Following that, a decision to implement the full Adobe Experience Cloud platform was made. We began with requirements gathering and initial templates to fully understand the complexity of the existing architecture and specific needs. From that point onwards, we continuously defined and redefined the solution, clarifying as we progressed and realigning priorities continuously.
Minor websites then went live in 2018, followed by the launch of the international site in 2018. The platform for Germany went live in April 2019. One crucial milestone was the first implementation of a personalized experience using Adobe Target. Furthermore, during the implementation process, it became clear that an out-of-the-box integration wasn't sufficient, and wouldn't work within their multi-tenancy environment. The tailor-made German website only took one year to go-live, and the entire project was successfully implemented within the planned time frame, a considerable feat for a transformation of this size. Thanks to Cognizant Netcentric's close partnership with Adobe, appropriate solutions could be found and customizations defined.
Methodology
For this project, we used a mixed approach involving some elements of agile methodology. Therefore, the core development and consulting teams used an approach that leveraged agility. Scrum teams included both a product owner from our client, and a scrum master from Cognizant Netcentric, and the developers were also mixed, comprising employees from Cognizant Netcentric and the client working side by side. Specific facilitators were used to ensuring a high standard of communication between different departments, and training sessions were also conducted, which allowed Cognizant Netcentric's team to support our client's own professionals and educate them on the new system.
In order to streamline communications, a professional setup of tools was leveraged including JIRA for tracking issues and Wiki for defining features. Furthermore, Slack was established as the primary method of communication, boosting efficiency and speed of interaction between teams. Against the backdrop of a continuous integration setup and multiple environments, coding was carried out using steady code analysis and format checkers. The focus was also placed on detailed documentation of the new system too. This allowed for an efficient partnership with effective communication that permitted the successful alignment of their global platform, and the customized German site.
Technology
This solution leveraged the entire Adobe Experience Cloud, including Adobe Experience Manager 6.4, Analytics, Target Recommendations Engine for AB testing and personalization. The solution also included Fusion and the AEM Connector for search functions, and the Cognizant Netcentric-built open-source ACL tool to manage the rights for the entire project. The infrastructure is hosted on Adobe Managed Services (AMS), with the code hosted by Github and Jenkins leveraged for deployments as managed by our client's technology team.
Results and benefits
The result of this collaboration is a future-proof platform for our client, which can be continuously evolved and customized to meet changing user demands and future shifts in the financial service industry.
For our client's internal teams, this transformation improves efficiency and promotes autonomy. It helps to streamline the editorial process via AEM's interface, it allows them to easily analyze the performance of their campaigns and the usability of their features. It also enables this leading financial service company to gain more visibility through state-of-the-art reports on user journeys across their digital properties. Such reporting also allows them to visualize how to convert customers for maximum ROI on digital marketing. The editorial team can easily access database queries or identify clickstream paths on the fly. Furthermore, Adobe's coherent and powerful system means everything is in one place, facilitating integrations so content management processes can be easily adapted and scaled. This means our client can react seamlessly to the demands of the market with greater self-sufficiency.
For the end-user, they will benefit from a new and improved user experience, including features such as the new single sign-on across products. The solution opens opportunities for more data-driven experiences thanks to the capacity to carry out AB testing, leveraging metrics from Adobe Analytics and personalization for elements on the webpage. This means users receive a more personalized digital experience with an emphasis on customer satisfaction, engagement and usability.
Our client and Cognizant Netcentric worked closely together to overcome a high level of complexity. Not only did this project produce excellent technical results, but the way all parties worked together was an achievement too. A positive working atmosphere was created that allowed teams to overcome obstacles with efficiency, even at stressful times. This transformation brought together a large number of stakeholders to deliver an outcome, which optimizes operations across departments. Cognizant Netcentric's technical expertise as well as our agile mindset, meant we were able to manage a highly complex setup and delivery, whilst our close relationship of trust with our client allowed us to form a productive partnership. The result is the realization of our client's international digital vision, and a platform, which gives them a strong foundation to evolve and grow with the future of financial services.
Do you have a project for us?
Other Success cases