A digital reckoning: leveraging customer data platforms in the life sciences industry
The life sciences industry has gone through unprecedented evolution over the last few years. In the face of the COVID-19 pandemic, companies have redefined how they engage with patients and healthcare professionals (HCPs). Innovation and experience leaders have had to navigate sudden shocks to existing systems, adopting new technologies to build on their organizations' ability to deliver personalized experiences on a new level of speed and scale, and support their longer-term transformation.
Today, life science companies are transitioning from in-person engagement models toward digital strategies that make information more accessible and personalized to HCPs and patients. The role of sales representatives, which used to be their biggest investment, is becoming more specialized as time becomes more precious. The role of content is now paramount. HCPs and patients need readily available, on-demand content: downloadable PDFs, videos, and articles that can serve them without face-to-face appointments.
Challenges in delivering personalized customer experiences
CIOs and CXOs are playing multi-faceted roles in ensuring successful digital transformations, leading change not only in implementation but at cultural, structural, and process levels. As experience leaders, they're assessing the infrastructure and systems the organization is using to collect, manage, and interpret customer data.
How can we leverage data signals to inform and better define personas, user journeys, and relevant touchpoints? How can we recognize return users and deliver contextualized recommendations and campaigns based on their preferences and behavior? As guardians of trust, they also need to strike the right balance between personalization and privacy. This goes beyond complying with regulations and building a culture where the importance of privacy, security, and customer trust is understood throughout the organization.
Finally, as innovation champions, CIOs are managing evolving tech stacks to enhance the business' agility, stability, and speed to market – research shows that 80% of CIOs are investing in new technologies specifically to improve customer experience.
Customer experience transcends organizational boundaries and technological silos. Companies are balancing their ambitions for excellent CX with a range of issues, including privacy, trust, security, and business continuity – with personalization sitting at the heart of customer experience. Customers expect experiences to be tailored to their goals, preferences, and needs. Businesses are asking themselves:
How do we know which channels are relevant to our customers?
How can we deliver targeted, personalized content to our end users?
How can we use data to understand the needs and wants of our customers?
How do we develop always-on campaigns that can be tested, refined, and optimized?
How do we integrate a digital program as part of our overall strategy?
How can we maintain consistent relationships between representatives and HCPs through times of change and disruption?
How do we ensure that this digital transformation towards integrated, omnichannel experiences delivers on the velocity our global brand teams are looking for?
To answer these questions, pharma, and life science companies are turning to customer data platforms (CDPs).
The evolution of customer data platforms
Leveraging technology takes your business to new heights when it comes to collecting, managing, and deriving actionable insights out of data. This is how the number of digital channels being used by life science companies has proliferated over the last 10 years.
In the beginning, we saw organizations rushing to establish websites as the primary channel, extending them to support multiple regions and brands. Then came the shift to mobile apps, particularly for patient experiences, as well as the integration of mobile and web, while driving traffic towards those channels via email campaigns. All of this has largely happened in silos, with point solutions being developed in response to new trends rather than being delivered as an integrated solution as technology evolved along the way.
Today, there are increasingly sophisticated and integrated solutions available. Customer data platforms (CDPs) enable organizations to connect data across different sources and systems, providing real-time insights and a holistic understanding of their customers. As companies pare down their digital ecosystems to focus on relevant channels and concentrate on delivering personalization at scale, CDPs like Adobe Experience Platform (AEP) are becoming a vital part of digital strategies.
CDPs offer a set of critical features to manage and act on customer data. Combined with Adobe Journey Optimizer (AJO), you have a set of powerful capabilities at your disposal:
A unified data model to align data collection and activation
Using experience events to trigger actions or journeys in real-time
The ability to stitch together customer IDs across multiple real-time and batch data sources
A comprehensive customer journey view
Strengthened deterministic analytics to enhance predictive capabilities
Native integrations to ingest data from other sources
There is no one-size-fits-all approach, especially when it comes to healthcare – and the ability to tailor your offerings to different customers at scale is what will set market leaders apart from the competition.
Finding your starting point in the digital transformation journey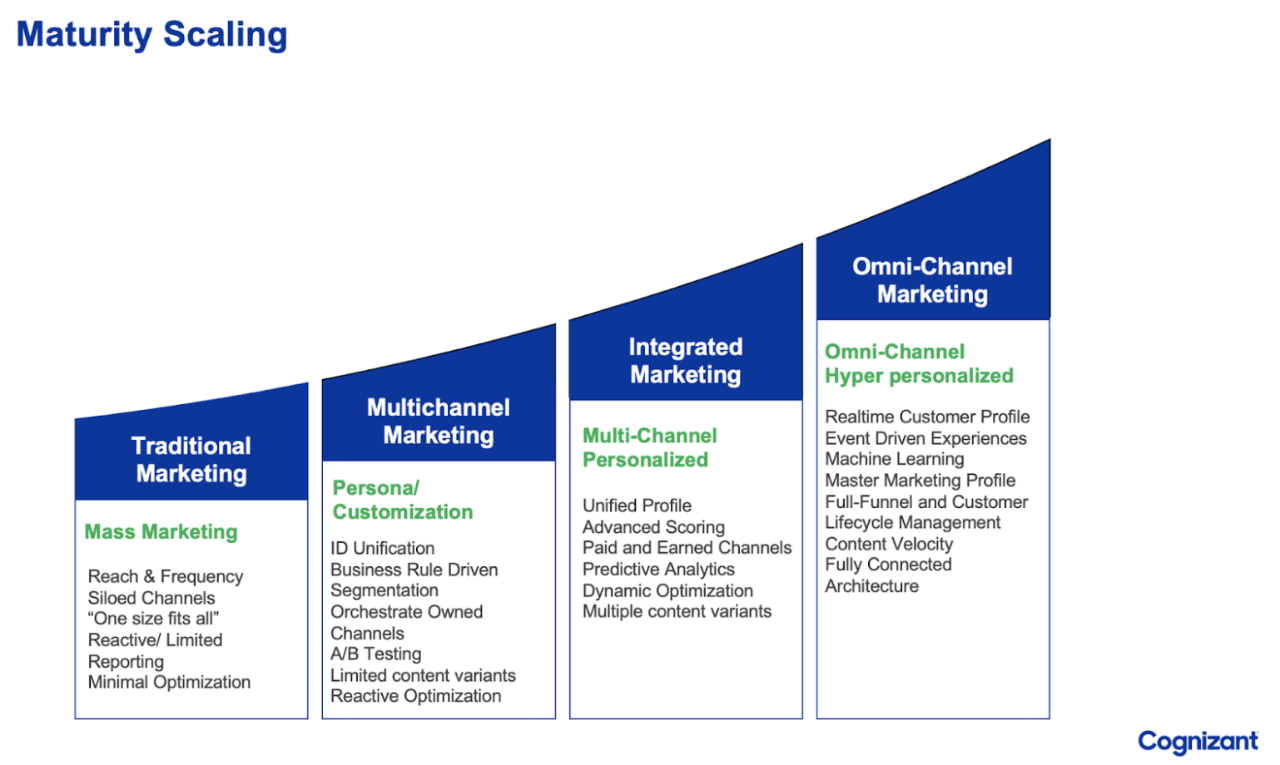 We work with companies at varying stages of digital maturity – from those who are just starting to transition out of legacy marketing systems to those who are now developing omnichannel strategies at scale. Wherever your organization sits on the digital maturity curve, there are ways to sequence the adoption of tools to generate greater ROI over time and demonstrate shorter-term value whilst working towards a full digital transformation.
Get in touch with our team today to see how Cognizant Netcentric can help you leverage the latest Adobe technology and harness the power of data to deliver a world-class customer experience.