Netcentric Summit 2022: The Power of Culture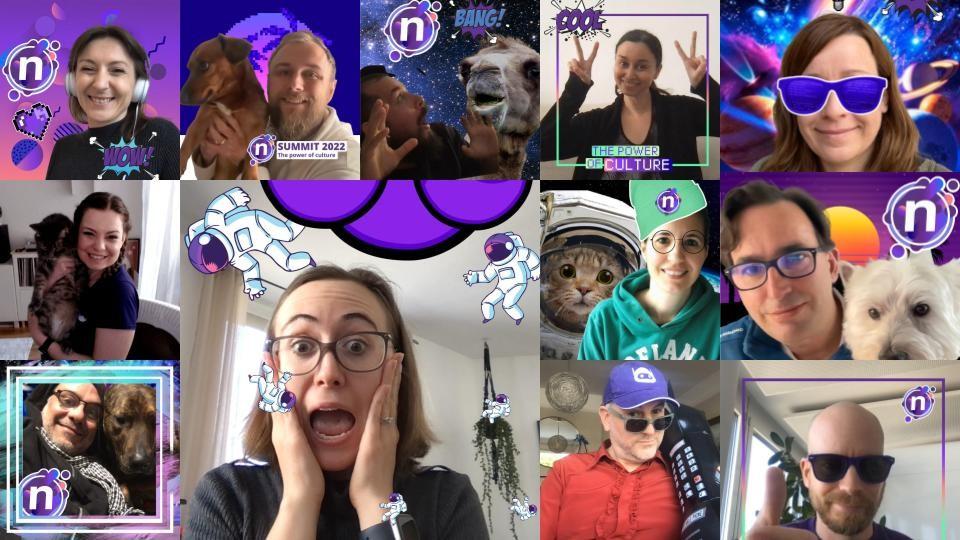 At Netcentric, we're constantly evolving. As individuals and as an organization, we strive to reflect, analyze, and find solutions to improve the way we work and how we feel about the work we do. Powered by Holacracy, our unique culture, and our core values, we're driven to challenge the status quo. That's why the power of culture was the central feature of our 2022 Netcentric Summit.
The theme of this event focused on how we foster a culture that is respectful, collaborative, and dynamic. Through keynote speeches, breakout sessions, and employee-led labs, we delved into the details of what it means to be part of a rewarding workplace at a time when we continue to shift towards a more hybrid way of working.
The Netcentric culture: Past, present, and future
The summit began with a conversational Q&A entitled "The Power of Us''. Our CEO Gerhard Gerner was joined by Head of Consulting Piotr Zabiello, Associate Director of Software Engineering Valdas Jasaitas, and Backend Developer Stephanie Molina to discuss how Netcentric's culture has developed and where it's headed in the future.
Gerhard Gerner offered insights on how we aim to take our daily working habits to the next level, with a fresh focus on synchronous efficiency – working less to achieve more. Reacting to employee feedback, Gerhard announced the new 'call-free Wednesdays', an initiative that aims to provide flexibility, time for focus work and help individual productivity.
https://www.youtube.com/embed/tb2E08rE30Y?showinfo=0
The Power of Culture Hackathon
As Netcentric grows and evolves, so too does our culture. That's why this year, we provided a platform to help us consider the challenges we face as an organization and how we can create our own solutions.
The Netcentric Power of Culture Hackathon empowered us to identify ways we can actively change and evolve our work life and culture, and thereby increase happiness and fulfillment in our daily lives.
Starting with ideation workshops, we identified a number of challenges that could be worked on to enhance our work environment. From there, employees joined 12 teams tackling 12 different challenges and had 25 days to create solutions for them. During the Summit, we held a company-wide vote for the three winning teams. Each of these teams are encouraged and empowered to make their solution come to life.
The Hackathon produced some exciting solutions to the challenges we face as a company and as individuals. Most importantly, it gave us the power to participate in the evolution of our shared culture and workplace.
Inspirational keynote speakers
As a company, we believe in the power of a constant flow of fresh ideas, and we never settle for the status quo. That's why we always invite thought-provoking external experts and keynote speakers to our Summits.
At this Summit, Aurelie Litynski, Chief Happiness Officer and Founder of Happitude at Work, spoke about the need to make happiness in the workplace a priority, sharing science-based insights and hands-on tools that can be used to create a long-term happiness strategy.
Dylan Beattie, director of Ursatile, led a live, interactive workshop on creative coding. Open to developers from all backgrounds, the workshop explored the fundamental technology behind photorealistic computer graphics and the techniques behind light, shade, color, and texture. Participants implemented these technologies and techniques to construct a ray-tracer in JavaScript and then used it to create their own digital works of art.
Finally, Rasmus Ankersen, Director of Premier League football team Southampton FC, delivered a thought-provoking keynote speech about developing a high-performance culture and acquiring talent in a competitive market.
A culture of collaboration and co-creation
With so much valuable dialogue around the challenges we face, as well as an abundance of inspirational ideas – from both external experts and employees – we lived our #share-and-bring-ideas-to-life core value at Netcentric Summit.
Now, we look towards the future: Enhancing our culture of collaboration, co-creation, respect, and diversity, by embracing new ideas that drive a constant evolution, personally and professionally, individually and collectively.