FluidWeb: Cutting-Edge Content Delivery Architecture for Siemens, Driving Real-Time Personalization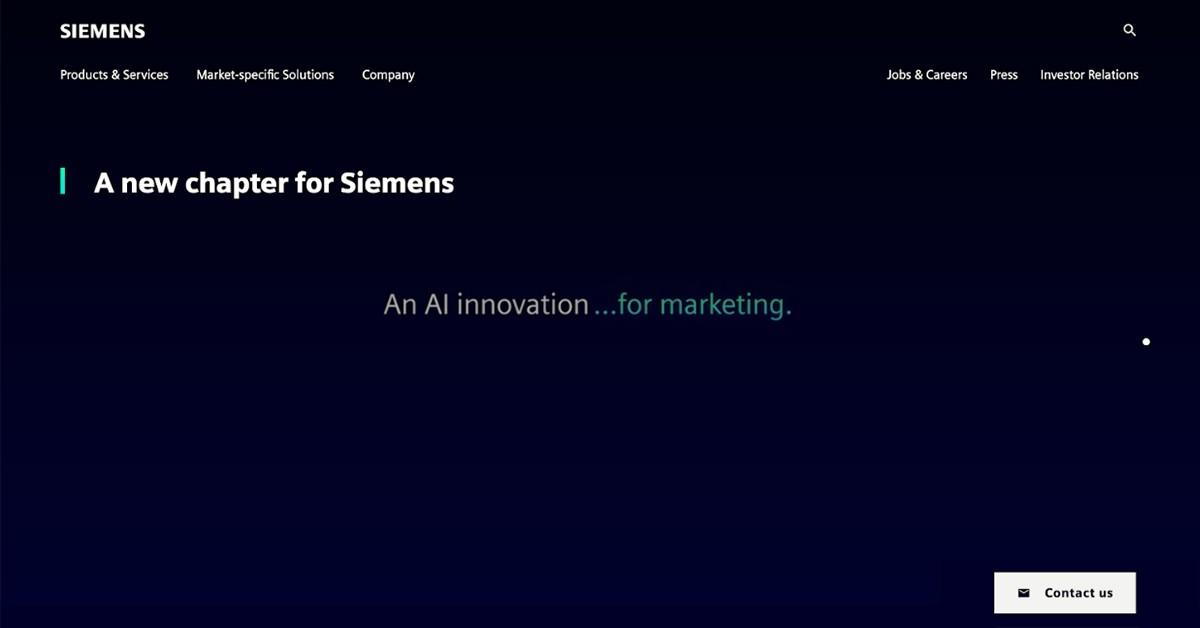 The challenge for Siemens
Siemens wanted to enable real-time personalization, increase user engagement and the quality of both their content and delivery processes by using machine learning techniques. This was made possible by installing mechanisms to better measure the quality of their content and improve the user journey. As a result, analyzed tracked user data, within machine learning algorithms, could predict the next user action in real-time. This was enabled by using the full power of their Adobe Experience Cloud and AWS solutions, and all within the existing Siemens environment. By using content fragments from multiple data source providers, FluidWeb offers an innovative solution to these strategic challenges and generates a highly personalized content stream.
The approach
The process of implementing this real-time content delivery architecture begins with content indexing, in which content is mapped and tagged to index pre-existing pages and assets. A number of tools and machine learning techniques are used, including automatic topic and graph-based keyphrase extraction (LDA, MultiPartiteRank) introduced by the Netcentric data science and machine learning engineering teams, in addition to Auto-Tagging for the asset content by Adobe Sensei.
Following this, user data can be processed, which falls within two important input parameters: content and user data. Interaction data is exported from Adobe Analytics into AWS S3, pre-processed using both manual and automated pattern analysis, cleaned, features extracted and then used to generate training sets for the recommendation engine at the heart of Siemens' bespoke solution. Amazon Personalize is also leveraged in this solution, applying different models for specific use cases such as search re-ranking or locating related content.
Throughout, these machine learning models continue to learn based on real-time interactions. By working together in a close partnership, Netcentric and Siemens have built modular (ML) services in the AWS cloud for the entire Siemens ecosystem which each Siemens application is then able to use.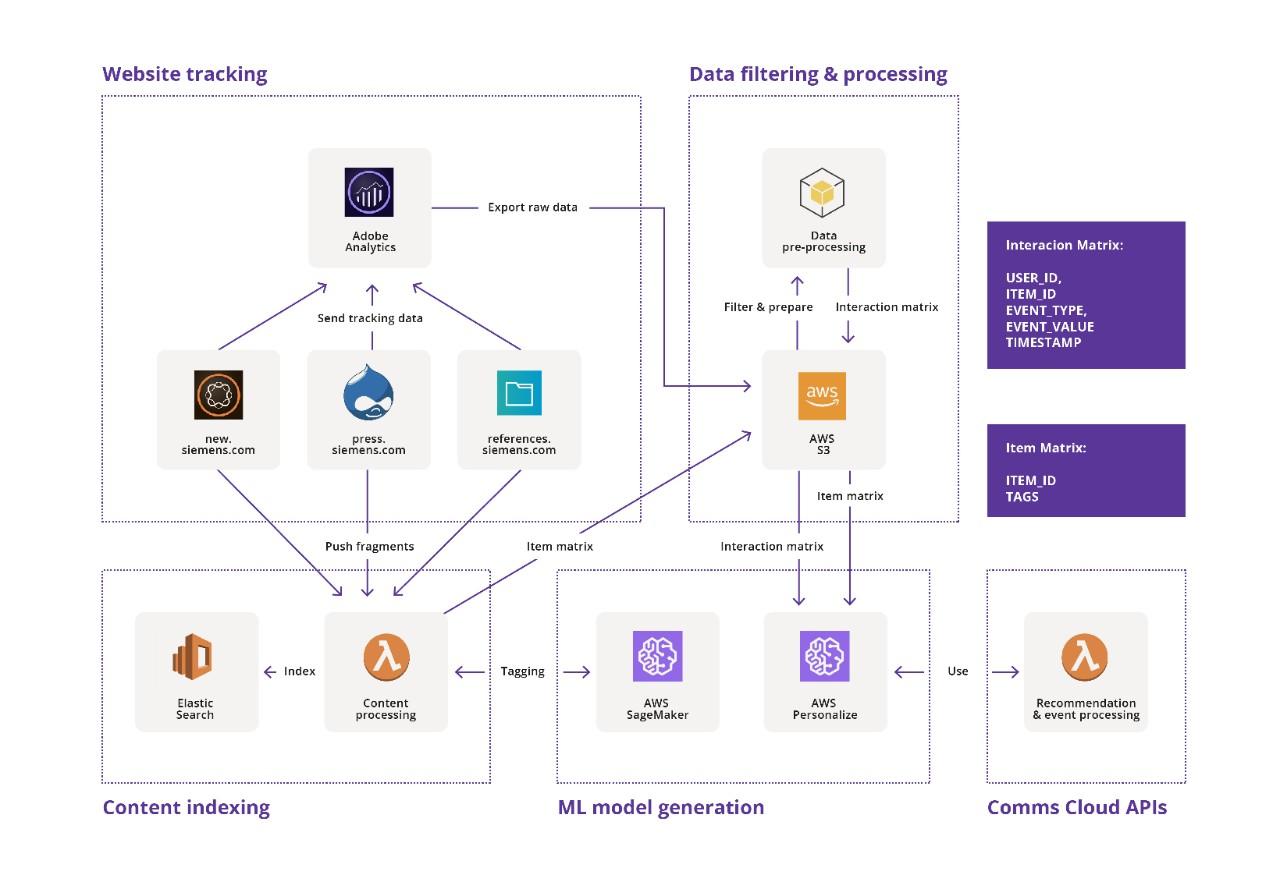 The outcome for Siemens
FluidWeb provides Siemens with state-of-the-art tools and services for real-time personalization. Because of the sophisticated recommendation service for personalization, personalized ranking and related content, Siemens has shifted to a more advanced storytelling approach. This results in an improved brand experience and increased user engagement.
This project has reduced costs for Siemens' content and authoring, thanks to a more streamlined and efficient delivery architecture. The auto-tagging API supports editors to set keywords, content fragments are indexed enabling instant search and querying, whilst the new machine learning APIs can be used to push and register new content fragments. This saves time, cuts costs and reduces time-to-delivery.
Improved data processing because of FluidWeb, enables Siemens to embed customer-centricity at the core of their experience. User interaction data is exported automatically everyday by the Feed Exporter in Analytics, which can be easily filtered based on pattern detection to feed machine learning recommendation models. Historical Analytics data can also be incorporated into data from the real-time event stream of user interaction with FluidWeb. This stream is evaluated in real-time and the model continuously re-evaluates the latest provided content snippets for each specific user. This means Siemens can better understand their customers everyday, and use this deep knowledge to build a tailored experience for their users.
This solution helps Siemens unlock the full capacity of machine learning models. It leverages event tracking to constantly update and optimize machine learning models in real-time. The provided machine learning algorithms allow for intelligent topic and graph-based keyphrase extraction as well as automated content annotation. Meanwhile, the import item and interaction matrix in AWS Personalize embeds machine learning into the personalization processes. This bespoke delivery architecture ultimately results in better quality content that can be delivered to the right customer and at the right time.
"I do know that we solved a lot of issues together," says Siemens Head of Digital Communication, André Graf. "We created real teams (in terms of collaboration and professional delivery), we were fighting and solving, we were discussing, we helped each other."
Fluid Web is more than a new buzzword and a fancy new design. It's a new way of creating and providing content in a personalized manner. Siemens started to rollout this new experience on 1st of October 2020 on their www.siemens.com homepages. But this is just the beginning of providing this future-oriented and innovative customer journey with the goal to rollout Fluid Web across the company.
Netcentric is proud to partner with Siemens in delivering a solution that allows them to realize their digital vision of cutting-edge content delivery. This partnership resulted in an outstanding product that supports Siemens' position as a leader in experience business.
"It's exciting to see how innovative, energic, powerful, focused and collaborative our teams are," says André Graf. "The level of trust, the level of knowledge, how perfectly agile mindsets and methodologies are lived, the pure speed of delivery as well as the reliability is outstanding and makes me ... just proud."