A successful Adobe Target implementation for Helvetia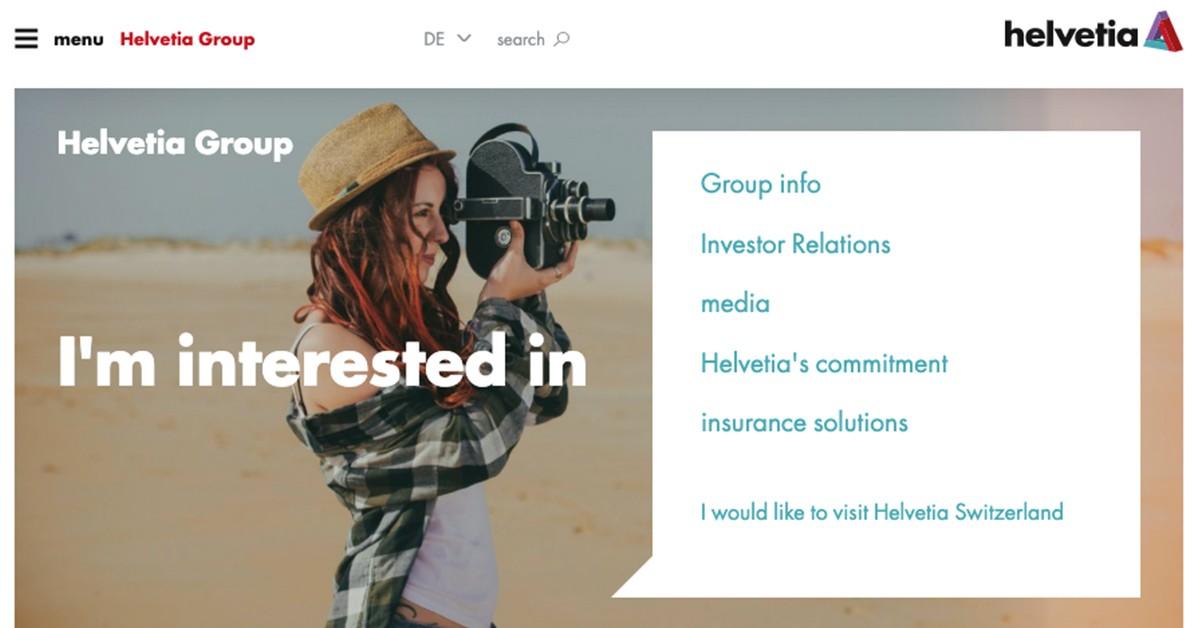 Challenge
Netcentric, A Cognizant Digital Business were brought in to support Swiss insurance giant Helvetia with the implementation of Adobe Target. Helvetia is already leveraging AEM on their sites. Given the expectation among endurance customers for consistent, streamlined experiences, Helvetia wanted to optimize their digital experiences and go further with their Adobe Solution. Therefore, this joint project aimed to unlock advanced technological capabilities with the rollout of Target across their European digital properties.
This implementation solved a number of crucial challenges for our client. Firstly, they needed to build a state-of-the-art personalization program that would be scalable and future-proof. They wanted to deliver a multi-channel, personalized customer experience in order to ensure seamless user interactions throughout customer journeys. Secondly, they wanted to optimize their mobile experience and drive more mobile traffic to their sites. Finally, they needed access to advanced analytics to visualize how their site was performing and how users were interacting with it. Therefore they needed to unlock A/B and multivariate testing via state-of-the-art technology.
"We now have the set of tools that will help us drive data-driven optimisation and experience targeting, thanks to Netcentric's expertise." says Mirko Paci, Lab Leader Digital Communications and Digital Analyst at Helvetia. "We've only just begun and are pleased to say we've already seen a 10% increase in mobile traffic, which is a testament to how important it is to work with experts who know how to unlock technological capabilities of the Adobe Experience Cloud."
Approach and Implementation
When approaching this project, we honed in on our client's specific needs for advanced insights and support from an experienced Adobe expert, to ensure the most effective implementation and adoption possible. In our approach, we also aimed for maximum autonomy for our client, enabling them to run target activities themselves as soon as possible. We began by setting up our client with Analytics, DTM and Adobe Target itself. Following this, we focussed on establishing A/B testing and experience targeting.
Methodology
This project involved onsite training sessions and workshops in which test cases were leveraged to train teams on how to set up personalization for experience targeting. Training sessions therefore took a hands-on, example-based approach, to maximize engagement and effectiveness. This transformation also involved strong nearshore communications too, via phone or video conference, to support Helvetia wherever necessary throughout the implementation. A flexible, agile-inspired approach was taken in order to respond to changing requirements and offer adaptable consulting services as required by Helvetia.
Results and Benefits
In April this year, Helvetia took over operation of Adobe Target themselves, and are successfully running target activities, with support from Netcentric.
As a result of this project, Helvetia now has access to tools for advanced measuring and monitoring, which will drive data-driven optimization of their customer experiences and improved performance of their sites. Another key result is an improved mobile experience, with Helvetia recently reporting a 10% increase in mobile traffic, to which this transformation contributed. Thanks to advanced testing tools, our client can more easily determine the most effective UX and content to leverage across their digital properties. This will drive more streamlined and informed content creation flows, which will also benefit from the ease of integration with AEM and other AEC tools.
"At Netcentric, we aim to enable our clients through the implementation of the right Adobe tools, and empower them with the knowledge and skills they need to run them." says Harry Zenklusen, Principal Digital Consultant at Netcentric. "Driven by a team that has the capability to take things to the next level, Helvetia's Adobe Target is now performing successfully with notable improvements."
Crucially, our client is now able to deliver more personalized experiences at scale, so their customers can enjoy tailored experiences whether accessing Helvetia's sites via desktop or mobile. We're proud of the close, ongoing relationship between Netcentric and Helvetia. Thanks to this collaboration, Helvetia has an expert partner on board to continuously support them to realize their digital visions and unlock exceptional customer experiences.