Fight Content Obesity: How a Content Diet Can Help Your Business
Reducing content can lead to more engaged users and a successful website.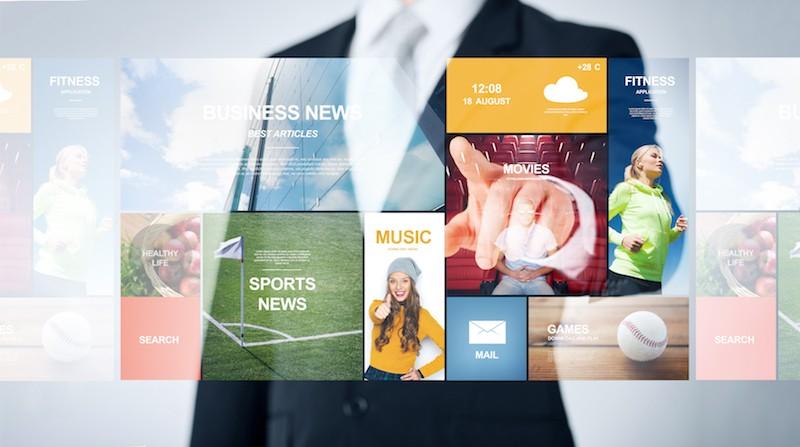 Everybody is using a Content Management System (CMS) nowadays. But instead of really managing content, most of the companies I have worked with only use it to add new content.
Over time their web pages grow larger and larger and this only makes it harder and harder for users to find the information they are looking for.
Gerry McGovern, who was a keynote speaker at our Netcentric Summit 2017, has been measuring how successful and how fast users are able to achieve their top task - the reason why they visit your page - for years.
Here is just one of many examples he gives us: A Nordic bank was able to dramatically increase the page views of their product pages (+520%) by reducing their website content by half, and then by showing personalised offers only after the customer achieved his or her top task.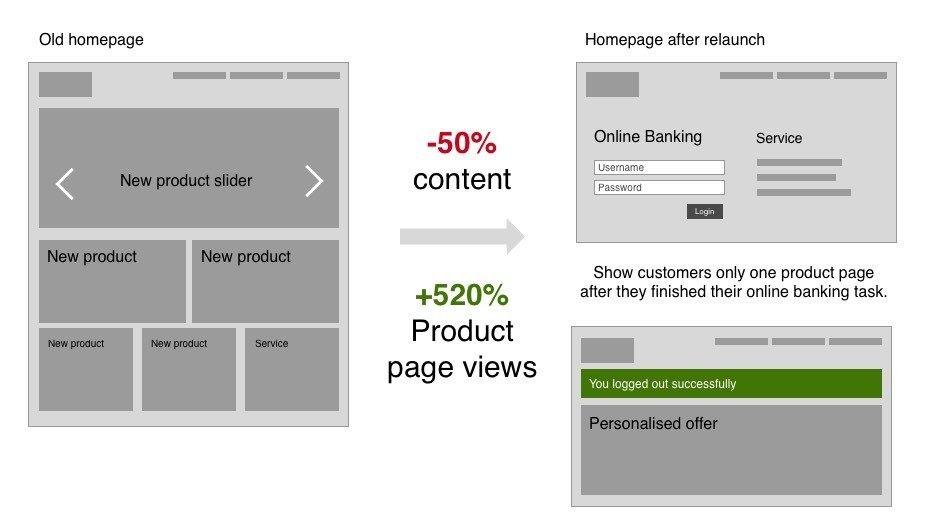 How much more successful could your page be with less content and a better focus on the user needs?
Why is content obesity a problem?
Having a lot of content which isn't relevant for your users is harmful for many reasons:
It makes it hard to find the right content: The more choices you have, the harder it gets to find the one thing you are looking for on a webpage.
Outdated content: Often it is hard for users to know whether a piece of information is still valid or not. The chances are high that they will stop trusting the whole content.
Internal search: With a bigger website, it takes more resources to index your page and it gets harder to provide a relevant search result page for your users.
Hard to migrate to a new system: The migration to a new CMS can be much harder and much more expensive with a large content base that no one really has control over anymore. At some point, it makes more sense to start over from scratch again.
How big is the information-to-noise ratio on your website?
How do you know if your website suffers from content obesity? Here are some ideas to start with:
Find pages in your CMS which haven't been updated in the past 2 years. Check if they are still needed and if the information is up to date.
Compare your analytics page views to your available pages. Find all the pages with no or very few visits in the last 12 months. These pages probably can be deleted without anybody ever noticing.
If you find a huge amount of outdated or unvisited pages, you should start a spring cleaning event to reduce the information to noise ratio and help your users to achieve their tasks faster.
How to avoid content obesity in the first place?
Following a few steps makes it easy to avoid content obesity in the first place:
Make sure you don't have goals in your organisation that reward only the creation of new content. Value quality over quantity. Give people enough time to analyse and review content.
Don't allow people to add content to the website without a good reason. Ask the author to provide a hypothesis of how the content will help the user. This can be added to the metadata of each page:
- We believe that … (write your believe statement here)
- For … (state who it's for)
- We will see … (what outcome you were expecting)
- Because … (why you believe this will happen)
- We will know this is true when … (measurable results to expect)
Define an expiration date for every page or content fragment.
Define a content owner for each page. Add the name in the meta data and make it transparent to everybody who this person is.
Have a content manager role. Content managers review the content and the hypothesis. They have the accountability to deny the content or publish it on the website.
Ask the user whether the page was helpful or not (Yes / No)? If the answer is no, show a text form field and ask why. Make sure to use this data and send it to the content owner.
Use the power of your CMS and Analytics tool to set up workflows which will do the hard work automatically for you. They can check if ...
a page or content fragment has expired
there is a dramatic page visits drop for a page (e.g. less than 10 page views in the last 12 months)
the user rating for a page is not good enough
the users are not scrolling to the end of the page or not spending enough time reading the content of a page
When any of these cases prove to be true, the system will inform the content owner. The content owner will then have time to make a decision:
update the content if it is outdated,
delete the content when it is not relevant anymore, or
extend the expiration date if the content is still current
If the content owner is not reacting in a defined time, the system will inform the manager. This way, you can make sure that the system is working even if the content owner has left the company.
In addition to the automatic workflows, you should also carry out manual user tests regularly. A good thing to check on is how successful users are able to fulfill their top tasks and how long they need for it. This is a good KPI to optimise for. To get a benchmark you can also run these tests on competitors web sites.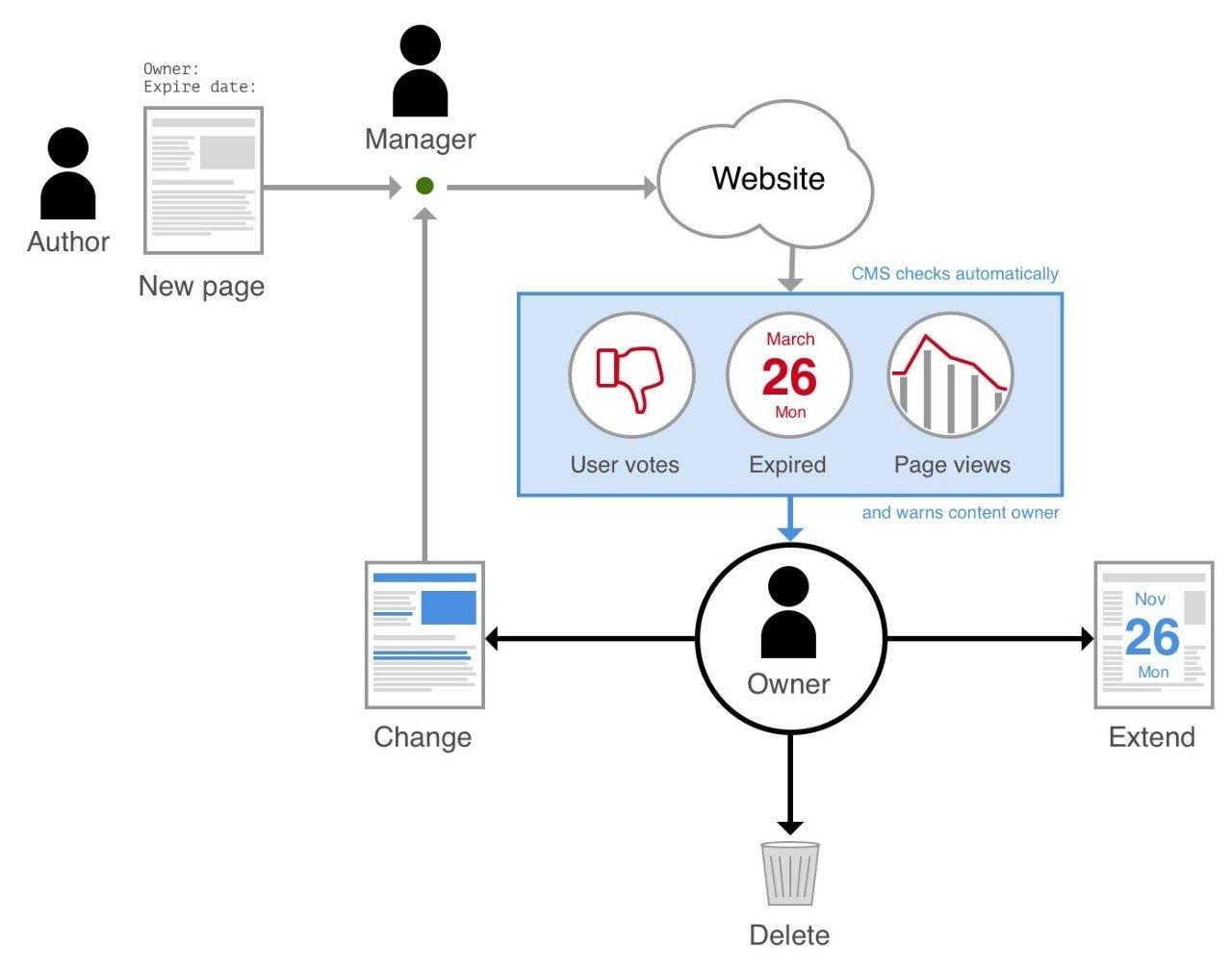 How can we support you?
I know content processes can be very complex. Often many stakeholders and 3rd parties are involved. But excuses don't help anymore. To stay relevant, you have to deliver the content the users need most. Others will sure do.
At Netcentric we can support you with:
identifying the user top tasks
change and stakeholder management
establishing needed processes
setting up the right CMS workflows
showing personalised content
tracking the right KPIs
carrying out user test
optimising your internal search
Sources
Gerry Mc Govern - Top Tasks: http://gerrymcgovern.com/