A Team Effort To Deliver a New LMS for Automation Expert KUKA
A joint effort to deliver a scalable and centralized LMS solution for robotics leader KUKA.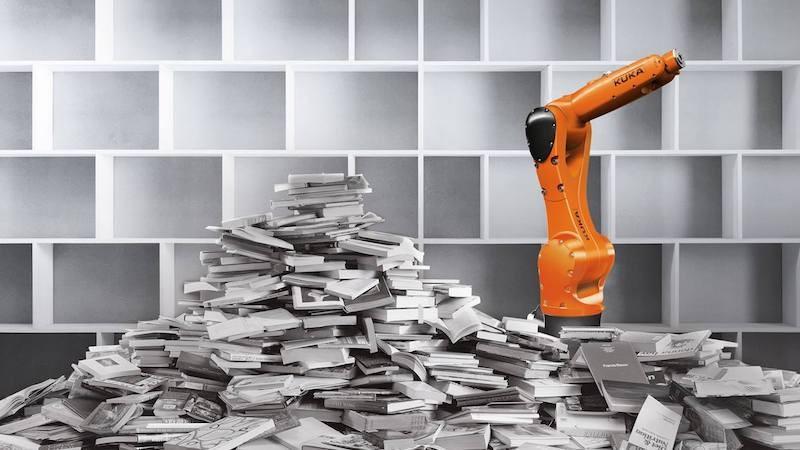 The KUKA - Netcentric - STL Partnership
KUKA is a global automation corporation offering industrial robots, production machines and systems for the construction of robot based applications and assembly lines of various industries including automotive, pharmaceuticals, beverages, metalworking, logistics and electronics. Given the advanced nature of their products, both their customers and employees need to be fully trained in how to program systems, operate and maintain them. Their training program is administered by KUKA College.
KUKA College launched a project three years ago to implement a brand new system which would manage their global training, and harmonize its underlying processes. To realize this, KUKA worked alongside software vendor STL Software to build a site which allows users to browse the training catalog for different geographies and make bookings. KUKA also partnered with Netcentric to provide guidance and structure in this large scale transformation. Netcentric supported the rollout process, data, change and project management of a fully centralized learning management system (LMS) with an agile implementation approach. The new LMS handles catalog management, session and participant management, integrations with SAP, HR and CRM, order management, and reporting. Its implementation approach involved starting small, delivering fast, adapting along the way where needed, and expanding the rollout process gradually.
"We are very proud of what's been achieved." said Gerhard Mueller, VP Customer Service Germany, KUKA Deutschland GmbH. "This is a testament to the hard work, close cooperation and expertise of Netcentric, STL and ourselves throughout this large-scale, challenging project."
Deploying a streamlined data management and booking system
Before this project, the KUKA College booking page relied on email traffic. Once users selected a training session and clicked to book a space, an email was triggered. There was no real-time information about availability of training sessions, and no standardized process for taking in customer data and requests. In the new LMS, beyond the visible output in the form of a training catalog and booking service, customer and event data is managed by a system that essentially functions like an Enterprise Resource Planning (ERP) system. This means organizers of web-based and instructor-led training events can utilize the system to specify an event date and location for a product, allocate trainers to events, and assign the necessary technical equipment. The customer-facing online booking feature then allows the company, customer contact and participants to learn about and register for particular training events.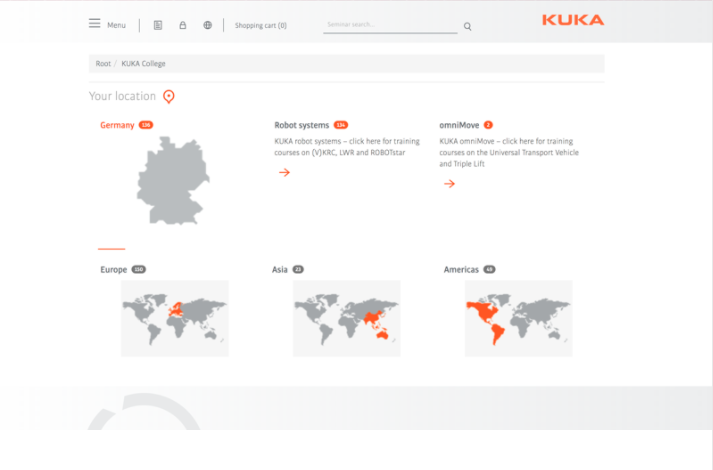 The new LMS allows users worldwide to book training sessions via an online catalog.
The new LMS also offers a powerful reporting functionality which enables data to be used for future forecast and development, whilst providing the ability to transfer data automatically to SAP which maintains the records of the financial transactions. The development of the newly centralized LMS was therefore a large scale project which required expert data management in order that KUKA could continue to conduct their internal product preparation and organization of training, as well as the outward-facing booking processes. This was realized thanks to STL's deep knowledge of their tool and efficient ways of programming, KUKA's insight and expertise into their methodologies, and Netcentric's experience in change management. From the outset, the objective was to globally deploy a harmonized process and information system for learning management within KUKA College.
The Transformation Rollout
Following the selection of STL as a software vendor in early 2015, Germany was the first site to go live with the system pilot in December 2015. Since then the new system has been rolled out - with Netcentric as a partner - in China, France, Hungary, Romania, Spain, Portugal, UK, Ireland. In 2018, rollouts are planned for Italy, Sweden, Czech Republic, Turkey, Mexico, Brazil and Canada. The finishing line of this wide-reaching project has been set for 2019 with additional European and Asian countries to be rolled out.
Managing The Human Factor: Achieving Positive Results Together
This project was truly a team effort between KUKA, Netcentric and STL. It was successfully realized through establishing appropriate structures which bridged the business and IT domains. A challenge was that there was a wide range of different stakeholders in the implementation: from IT to HR, to Marketing, Accounting, Controlling, Procurement and of course KUKA College. This meant that, rather than ensuring technology adoption afterwards, this had to be built into the original process.
Within this transformation project, it was important to manage not only the technological element, but to manage the human level too. The building blocks of digital transformations include technological changes, data processes and interaction design, as well as human elements such as company culture and team management. In the implementation of the new LMS, it was crucial to ensure that all parties in the technical arena including KUKA employees had full awareness and understanding of the project, and were aware of the development work necessary to make this an integrated and harmonized system. To facilitate a smoother introduction of the new LMS, which provides employees with a platform to book their own training as well as a backend system for resource and event management, employees were actively involved in the implementation process. This meant stakeholder meetings at all stages of the project in order to provide visibility on the complex system landscape of KUKA. This helped to reduce complexity, empower teams and amplify knowledge and awareness of the new systems.
The Benefits of Transformation
A fundamental part of Netcentric's role in this joint transformation was providing a vision of how the transformation could improve KUKA's processes, and pushing toward the realization of the benefits of such a large-scale project. The key outcomes of the new centralized LMS were:
The standardization of the visibility of training products and the global booking process for both internal and external customers. The new LMS assures the quality of planning and booking for training sessions worldwide, and aligns the entire lifecycle of a training product: from its conception, to the selling process, to local execution, to feedback collection.
A greater transparency on data. The newly harmonized data pool gives access to a seamless employee training history and a complete view of client information, whilst also respecting data privacy regulations.
The ability to make competitive offers and proposals to clients in terms of training content. The development of needs-oriented qualifications leads to increased client loyalty and greater upselling potential.
A more efficient administration process. By implementing interfaces and connecting to SAP, HR, CRM and SD (Order Management), KUKA have a fully integrated set of digital processes which reduces manual administration efforts, double entry and data redundancy. This solution also facilitates better resource management, and faster responses to client requests.
A more scalable and future-proof solution. This more stable learning management system can be constantly optimized whilst still remaining in line with business needs. This means it helps to ensure the professional planning and delivery of employee and client learning programs in the long term.
Miklos Loerinczi-Karn, Head of Training and Information Services, KUKA Deutschland GmbH commented "Our new LMS system has allowed us to streamline our training catalog into a single integrated system that improves experiences for our customers and employees in multiple geographies."
Envisioning An Agile and Scalable Solution For the Future
The project also makes sure KUKA's systems are fit for the future by opening possibilities for delivering web-based training and live virtual classroom sessions. This would allow customers to access additional educational content like videos or updates to product training. The vision for the project is to develop the solution from a booking platform into a learner portal which would become a go-to online training hub.
The outlook for KUKA's LMS involves constant reassessment and modification which allows for optimization along the way. This means incorporating system and process enhancements, such as measures to comply with new GDPR expectations or improving management reporting. In addition, further steps will include starting the implementation of the learner portal by digitizing learner documents and continuing the integration with the KUKA IT landscape.
Conclusion: A Successful Team Effort To Deliver a Stable and Centralized LMS
The key to the success of this project was a very close working relationship between KUKA, Netcentric, and STL. For all parties involved, it was crucial to remain totally focused on KUKA's objectives for the new LMS to ensure they were realized, and the highest project standards met. This has been proven by the acceptance levels among KUKA employees now working with the new system, as well as positive customer feedback, which demonstrate that the new LMS satisfies and delights customers both internally and externally. This was truly a collaborative and cooperative team effort, which has successfully allowed KUKA to transform its online training catalog into one centralized and integrated learning management system and jointly achieved results that all three parties can be proud of. The new solution has already been rolled out in 13 countries, been made available 10 languages, and 45,000 bookings have already been managed for instructor-led training and online training.