From Multichannel to Omnichannel Marketing: What Does That Mean and What's Next?
Ensuring seamless transitions across channels is crucial. Break down multichannel, cross-channel and omnichannel marketing approaches for your brand.
In recent years, we have seen an explosion in the number of marketing channels in an ever-evolving landscape. Consumers are discovering brands on social media at work, reading reviews on their mobile device at stores, before returning home to continue browsing via tablet.
Companies can now reach consumers in more ways than ever before. This, however, also poses challenges with growing consumer expectation for perfectly consistent experiences across channels. Businesses now need a carefully sequenced digital marketing map that ensures seamless channel integration orientated around a profound comprehension of customer behaviour.
The rise in multiple channels in the digital marketing environment has brought with it a number of buzzwords, often used interchangeably: multichannel marketing, cross-channel marketing, omnichannel marketing. But what do they actually mean and what's next?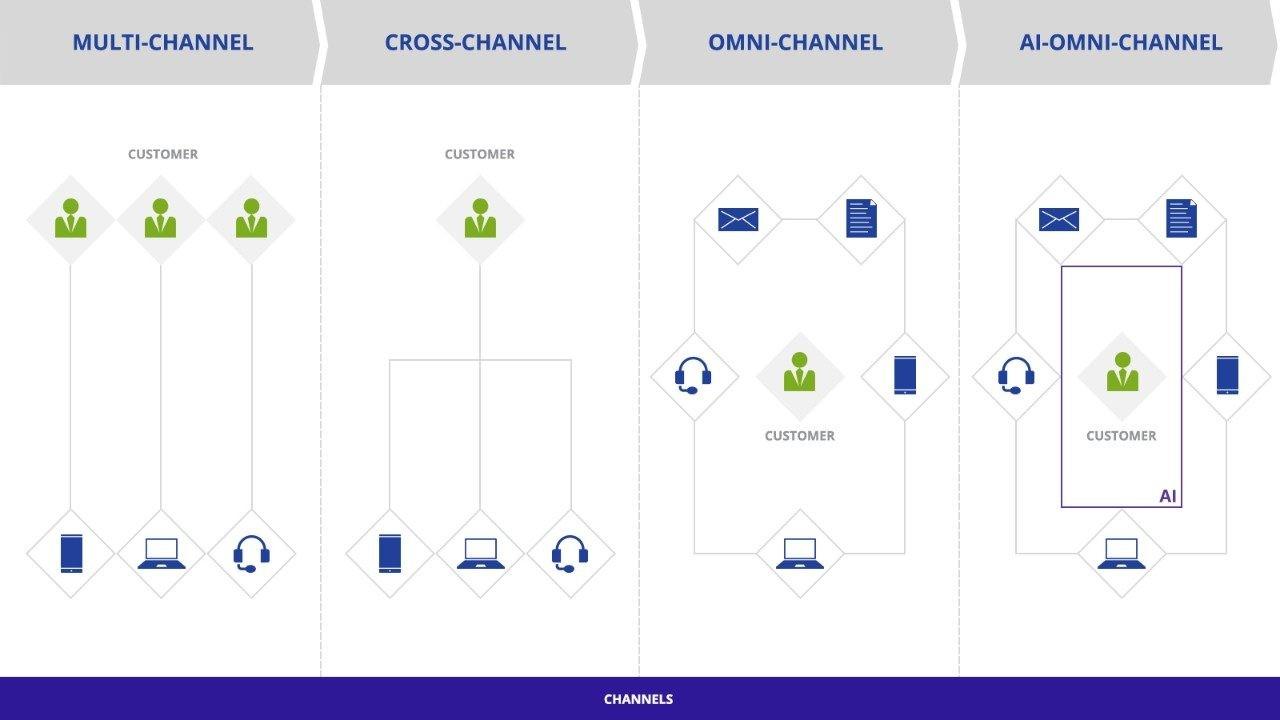 Multi- and Cross-channel
Multichannel marketing simply means the use of more than one channel to reach customers. Consumers are offered a variety of distinct routes to engage with a brand, such as phone and email. These touchpoints are perceived individually by the consumer and equate to completely disconnected arms of the company. They don't have any common data, and can in fact end up competing with each other.
The cross-channel approach builds on this original idea to use multiple channels in conjunction with one another. For example, in a cross-channel experience, when a customer contacts a customer care team via email, they may be suggested relevant FAQs to read online in conjunction with a personalised email or live chat response from a member of the support team. In this approach, customers start to see different channels as integral parts of the same brand, which complement each other rather than exist independently.
Omnichannel
The omnichannel approach is about a seamless, individualised service. It gives customers access to information at all stages of the experience, whether they are in a physical store, accessing via desktop or on a mobile device. It results in a mutually beneficial, fully connected experience across both online and offline channels. Instead of an emphasis on content for individual channels, a completely connected customer journey is created in which data is allowed to travel across channel interactions.
Recent studies show that 63% of people now expect brands to use their purchase history to provide them with personalized experiences. In omnichannel approaches, context glides between channel interactions so customers aren't required to provide information at multiple stages. For example, a customer purchases a product via an e-commerce platform and then goes in-store to collect their purchase. In the context of omnichannel, their buyer data and behaviours will be pre-integrated into the service they receive, providing a powerful customer experience.
What's next?
In the pursuit of a completely seamless brand experience regardless of channel, the capabilities of machine learning and artificial intelligence are bringing even smarter and more integrated experiences to target audiences.
This invalidates the need to understand customer moments on a channel-by-channel level. Instead it focuses on a centralised artificial intelligence data center that simultaneously drives all consumer engagement so that customers can transition between touchpoints without a hint of discontinuity. The future, therefore, may lie in a channel-less approach where channels are blended together for continuous engagement with a brand.
This will unlock the capacity to operate pre-emptively to incorporate complex customer data that allows businesses to anticipate where their consumer needs will move next, and find solutions for issues that may not even have surfaced yet.
Conclusion
We've stepped into the next intelligent era in which artificial intelligence, the Internet of Things and virtual reality are moving into mainstream consciousness. This necessitates an omnichannel marketing approach with increased agility. However, the objective still remains the same: to choreograph a consumer experience in which your moment-by-moment brand interactions reward both consumers and your company. This means breaking down channel silos and ensuring consumers' data can travel with them, resulting in a smart and even channel-less marketing approach, which places the consumer and their seamless brand interactions at its core.
Enable personalised, automated omnichannel customer experience.