Our newest client: Netcentric
Rina Patel describes how established best practices, expertise and an innovative spirit were applied to creating a brand-new integrated Netcentric website.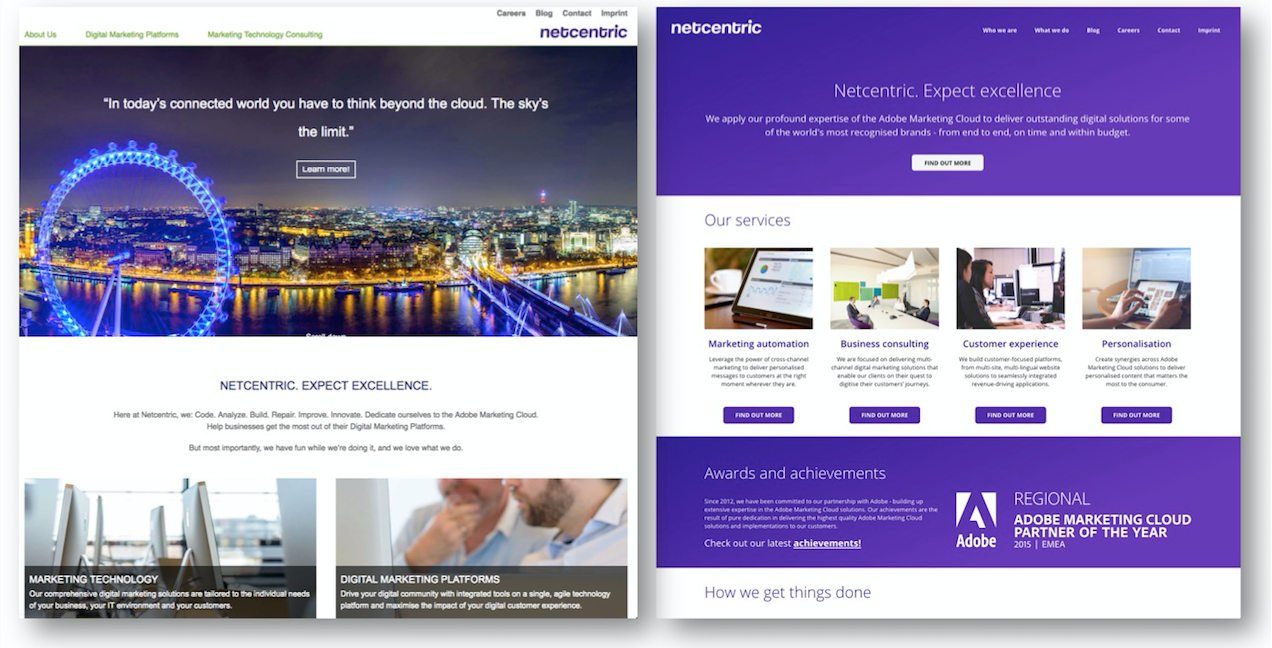 The vision
Normal life at Netcentric revolves around applying our profound expertise of the Adobe Marketing Cloud (AMC) to deliver outstanding digital solutions for some of the world's most recognised brands. This is what we're known for: delivering complex, innovative solutions from end to end, on time and within budget.
This story is different. It's about how Netcentric became its very own client. It's about how – thanks to our unique business structure - our internal employees felt empowered to take the challenge on themselves.
So how did we do it?
The most important enabler of the project? No hesitation. It was Netcentric's organisational structure. Unlike most traditional organisations, which operate a top-down, hierarchical management structure, Netcentric enables individuals to think outside the box, to have great ideas and be accountable for delivering them. It makes the business agile and responsive. The approach is called "Holacracy".
Legacy vs. the future
So, back to the story and the next big question: do we enhance what we have – or do we start again from scratch? In our case, the legacy website was built using Adobe Experience Manager 6.2, with a very simple Adobe Analytics integration. Frankly? Not the best solution. As a team, we decided to start again from the ground up – based not only on the fact that it was technically easier, but also and most of all, in view of our goal: to deliver an integrated digital marketing platform to support our future vision.
In a traditional company, a team recommendation like this would have taken weeks or even months to be approved by management, but - empowered and enabled by our unique structure – the decision was made in a matter of minutes.
From my point of view, with my corporate background, I really appreciate the trust the co-founders have in their employees. I liked the fact that we were able to make the case without giving endless presentations. We explained, they got it, and we started work. But I also felt very responsible. Would they like it? Would it work? To say I felt accountable for the project is an understatement!
But I like a challenge. And I truly believed this was a great opportunity to showcase Netcentric's core values and expertise – and to explain to potential clients that we're not just about enabling AMC solutions for clients. We go way beyond that. The key difference is that we understand how the suite of products can help organisations to create user experiences that matter, to lead in the digital space and to drive revenue.
So with the approval to go ahead, our first step – as with any project - was to define the scope of work and identify the roles that were needed to get things done.
The beauty of being a responsive organisation
With the requirements defined and project planned, we now needed a team to build, develop and roll the project out. To "normal" companies, internal projects like this cause business conflict. How do you pull resource off client projects? It's different at Netcentric because of our philosophy and the agile, responsive way that we work. That means it's easier for us to apply resources to projects when required.
For example, you don't need a front-end developer or a systems engineer from start to finish. Being agile gives us the added benefit to maximise resources for a specific task. It also means that a project isn't held up because of unavailable resources.
What we wanted to achieve
We were no different to our clients. We also wanted to attain the Adobe vision. What's key, however, is having the right foundation on which to build that vision and part of this is knowing that you have to break down the project into realistic deliverables. The last thing we wanted to do was impact our client work, but we still needed to deliver…
With the scope of work defined, our goal was to deliver a new website for Netcentric. These are its initial constituent parts for Phase 1:
New Netcentric website built in ***Adobe Experience Manager*** (AEM) 6.2.
***Adobe Analytics*** implementation using ***Adobe Activation*** (Dynamic Tag Management).
***Adobe Audience Manager*** & Marketing Cloud ID implementation using Adobe Activation.
Contact form built in AEM with the integration of ***Adobe Campaign***

Our challenge was not only to implement but also to create synergies between the five of the core AMC solutions we were using and to deliver a platform within four months.
In summary
Our expertise lies in helping clients to deliver the best possible customer experience using Adobe Marketing Cloud – that's what we do. Our vision was not just to create a website to support our business needs; we also wanted to showcase our work through our own integrated digital marketing platform -applying industry best practise from website design, accessibility, content management, analytics, architecture and implementation.
Our new website: www.netcentric.biz is proof that creating such a platform can be achieved on time and on-budget.
Check out our new website or why not get in touch with us to see how we can help you to achieve an integrated digital marketing platform to drive your business forward.
Next steps? Phase 2…