Launch your career with the Digital Marketing Academy at Netcentric!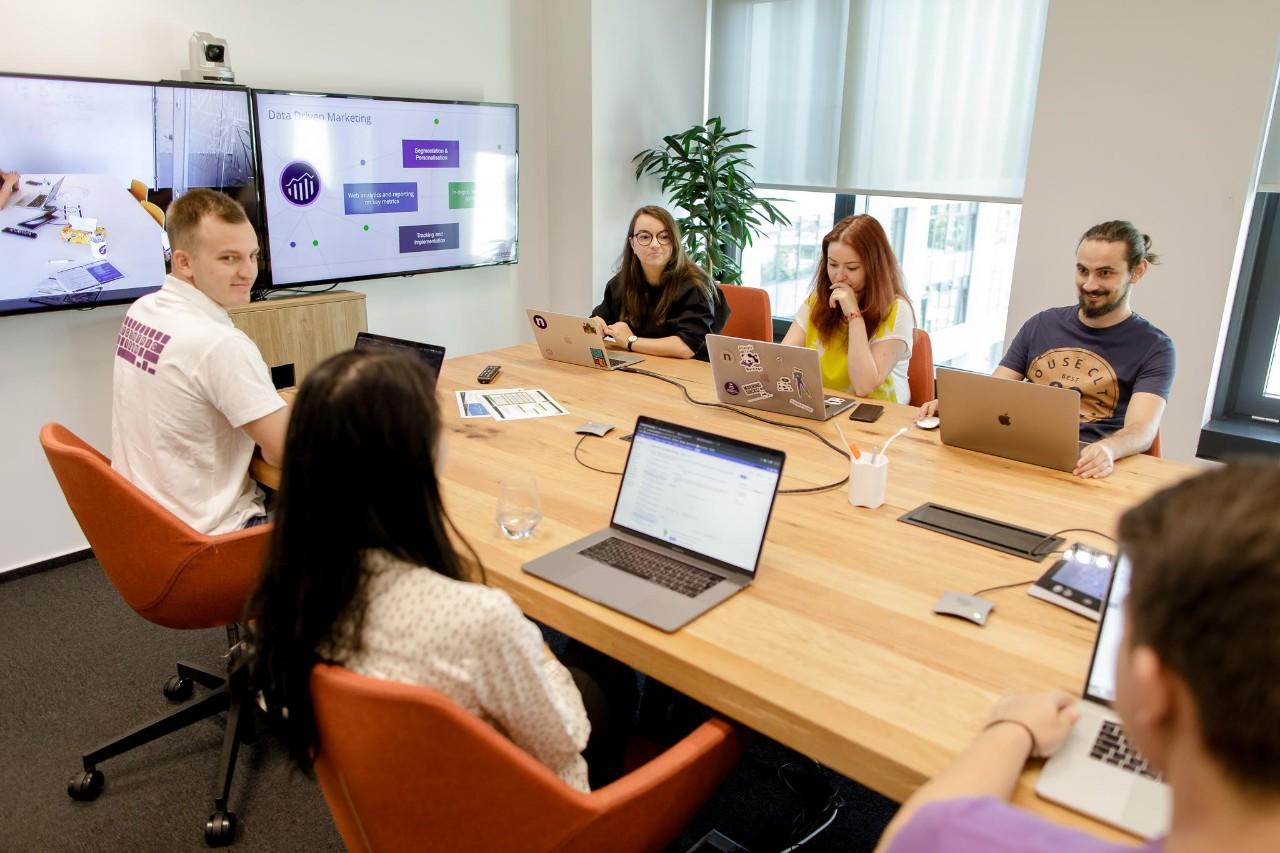 Join our team as a Marketing Technology Engineer or Digital Marketing Operations Specialist, and we'll provide 4 weeks of hands-on technical training so you can hit the ground running.
The Digital Marketing Academy at Netcentric is designed to provide you with the right combination of skills and knowledge to make an impact from Day 1!
The Netcentric Digital Marketing Academy will be held in our studio in Bucharest. Submit your application before September 30th, 2021.
Why
Start your career and learn from our experts in the field.
Who
Young professionals, recent graduates, and current students in their final year at university.
When
Applications are open now, and the 4-week Digital Marketing Academy begins in October 2021.
Do you want to be at the leading edge of digital innovation?
The Digital Marketing Academy at Netcentric focuses on the mastery of 2 specific tools: Adobe Analytics and Adobe Campaign. It features 4 distinct learning tracks which can culminate in one of the following permanent roles at Netcentric:
Junior Marketing Technology Engineer with Analytics
Junior Web Analytics Specialist
Junior Digital Marketing Specialist
Junior Marketing Automation Developer
Led by your future coworkers, the Digital Marketing Academy delivers hands-on experience and technical understanding of critical areas of Netcentric's exciting growth so you can help build the solutions of tomorrow!
Check out our openings and apply for our role as:
Junior Marketing Technology Engineer with Analytics
...if you:
Have a passion for web development
Would like to work in the center of Adobe Analytics implementations
Think browser technologies, data layers and debugging should not miss from your skillset
Apply Now **
Junior Web Analytics Specialist
...if you:
Love working with numbers
Have an analytical mindset and you think data always tells a story
Would like to become an expert in using web analytics tools like Adobe Analytics
Apply Now **
Junior Digital Marketing Specialist
...if you:
Would like to transpose digital marketing campaigns into marketing automation processes
Would like to become a PRO in operating Adobe Campaign
Have an eye for detail and you double-check everything
Apply Now **
Junior Marketing Automation Developer
...if you:
Have a passion for web development
Would like to work with a broad array of technologies from SQL, HTML to DOM manipulation and RESTful Web Services
Want to make an impact using Adobe Campaign
Apply Now **
Meet some of our Netcentric Academy trainers and graduates
"How do I do this? What do I need to do? Why am I doing this?" my younger self was asking constantly back in the days when I knew too little. Although it was a long time ago, I still remember all the challenges I faced at the beginning of my career. This was the most helpful tool in the trainer role I had back in 2018's Marketing Automation Academy. I had the chance to share the knowledge and help 7 new members of our community, not only from a technical point of view but from a professional development point of view as well.
The Marketing Automation Academy was a great achievement for us, as trainers, and a great opportunity for the student graduates who joined us to learn and practice programming skills and Marketing Automation concepts at the same time. The Academy was thought of in such a way that would prepare the trainees towards working in a Netcentric project.
In Netcentric, being a junior developer doesn't only mean doing what you are told. It is much more than that. You have the opportunity to learn new things, to receive the proper guidance in order to follow your professional goals, and, the best thing of all, to have the autonomy and space to grow in a way that is driven by you.
This year we again create the opportunity of joining Netcentric and starting your career as a Junior Developer in Marketing Automation through our Digital Marketing Academy.
Olga Preda
Marketing Automation Technical Lead
When I finished college one of my main concerns was "Am I ready for the challenges that await?". The knowledge gained from college needed a lot more in order to translate to a developer job. Many of these necessities were provided through the Netcentric's Academy program.
I and my colleagues have been mentored closely and have been given tremendous amounts of support. No task felt too complicated and the learning process was quite similar to what we were used to. We were learning by doing hands-on activities, with tools that we would later use in a Production Environment.
The Netcentric Academy offered us the basis to becoming a developer technically as well as professionally. We were always encouraged to be curious and ask questions, define our own path within Netcentric and our career.
Looking back on the experience it had such an incredible impact on having a smooth transition from where we were at, to becoming reliable developers who can deliver solutions tailored to our clients' needs.
Alexandru Catai
Data Scientist & Engineer